Article reviewed and approved by Dr. Ibtissama Boukas, physician specializing in family medicine 
You get a unsightly bump at the top of your back which, in addition to hampering the movements of your head, is not very pretty to see? Know that you can get rid of this fatty mass. In addition to physical exercises and natural treatments, you can also resort to cosmetic surgery.
What is a buffalo hump? What are its causes and the factors that favor it? What to do to get rid of a buffalo hump (ideally, naturally)? Find the answer to all these questions in this article.
Buffalo hump: what is it?
La bison hump correspond to an abnormal buildup fat that develops especially in the neck, neck and shoulders. It is a fatty mass that can occur due to a hormonal disorder or poor posture.
Normally, fatty tissue is evenly distributed in all areas of the body. However, an anomaly called lipodystrophies sometimes happens. In this case, there is an accumulation of lipid on a specific area, in this case at the back of the neck.
La lipodystrophy is divided into two categories
La lipohypertrophy which is an abnormal accumulation of fatty tissue that can affect different parts of the body: the stomach, the chest (especially in women), the neck, the nape of the neck and the shoulders.
La lipoatrophy which is an abnormal loss of fatty tissue. It can affect the face, arms, and buttocks.
It is important to distinguish between a fatty deposits et spinal deformity (sometimes referred to as a bony buffalo hump).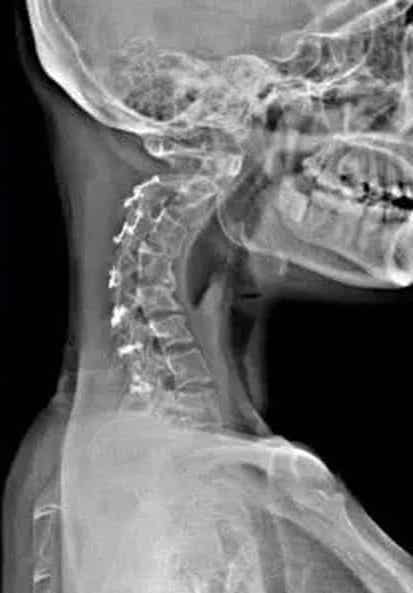 Indeed, a cervico-dorsal kyphosis can also cause a buffalo hump. It is a deformation or an accentuated curvature of the spine forward, at the junction between the vertebrae cervical and dorsal.
If one wishes to clarify the diagnosis and to determine the exact cause of the bison hump, one generally prescribes a medical imaging. This makes it possible in particular to distinguish between a bison hump, an abscess or a cyst.
What causes buffalo hump?
Mediafixer causes of a bison hump are numerous. Often, this disorder is due to an excessive accumulation of fat or a hormonal imbalance, particularly linked to a high level of cortisol. Being overweight also has something to do with lipohypertrophy. Obese people are the most affected by this morphological disorder.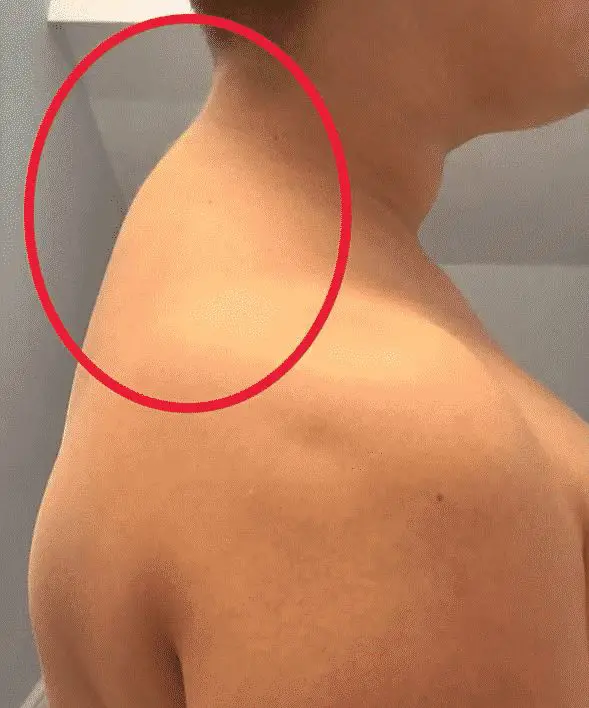 The bison hump is usually found in an area that is subject to near-permanent physical stress. Indeed, it is located between a very mobile part, the cervical spine ; and another little mobile which is the thoracic spine. This growth is therefore favored by certain factors such as:
a bad postural habit,

muscle weakness or imbalances,

or a lack of flexibility in certain muscles
Other factors may be at theorigin of a buffalo hump :
certain medicines including those used to treat HIV;

certain hormonal diseases (Cushing's disease, Hashimoto's, etc.);

diabetes ;

osteoporosis;

certain genetic disorders responsible for unusual accumulation of fat...
What are the symptoms of buffalo hump?
At its beginning, it is sometimes difficult to recognize a buffalo hump. However, there are warning signs before the bump is clearly visible from the outside. Here are some examples:
headache (tension headache);

rolled shoulders;

roundness in the back;

back pain and stiffness;

difficulty sleeping on your back;

stiffness and discomfort in the neck...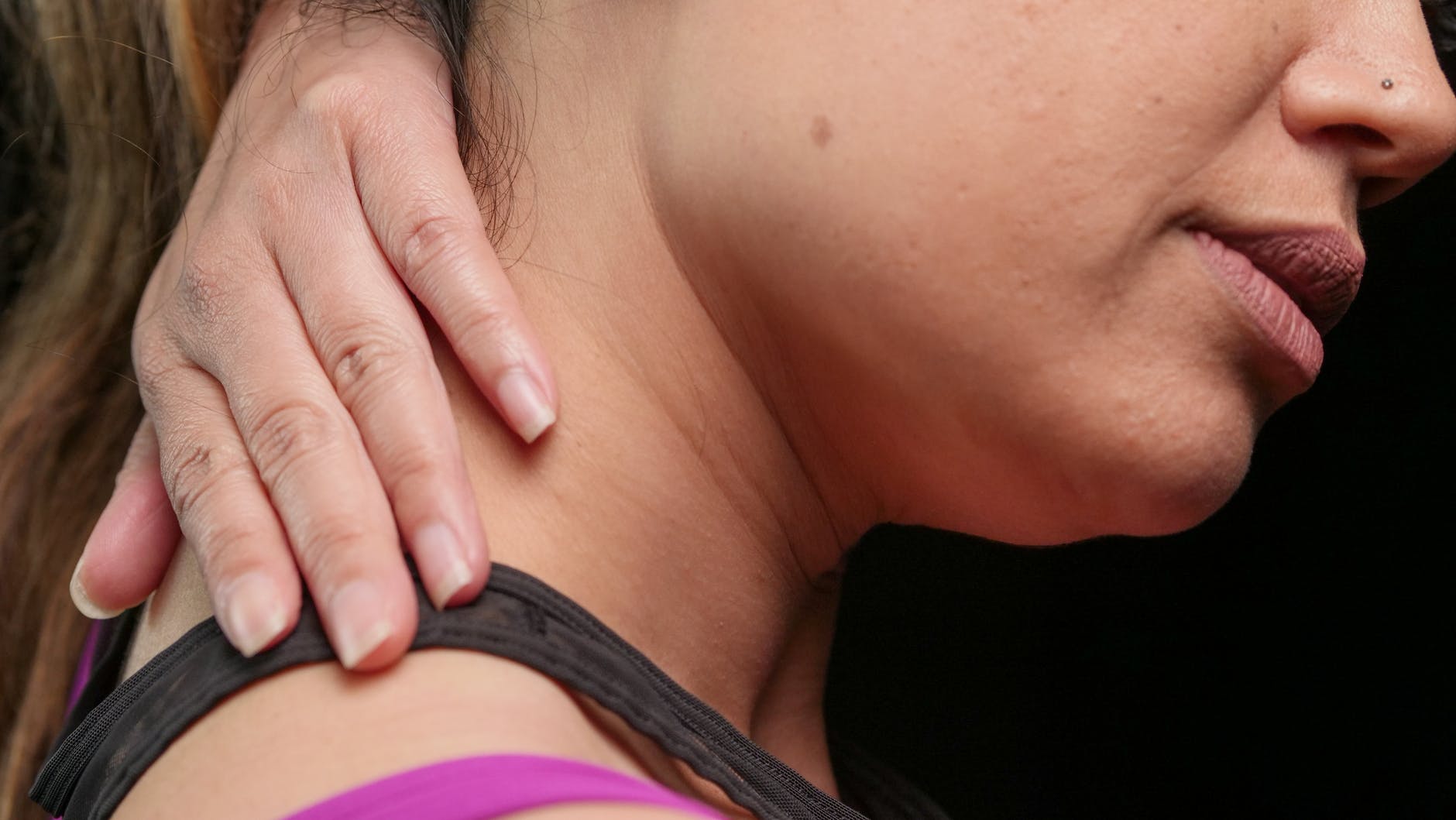 This disorder is particularly linked to a dysfunction of lipid metabolism. We can therefore see an accumulation of fat in other areas. The pile of fat can also be found on the stomach and breasts. It is more common in women.
Here are signs of lipohypertrophy which can make suspect a buffalo hump:
sunken cheeks, temples and eyes;

veins that stand out more on the arms and legs;

larger breasts in both men and women;

growths of fatty masses on the body;

high cholesterol;

high blood glucose (blood sugar).
What to do to get rid of a bison hump?
Treatment for buffalo hump will only be effective if the deformity stems from a spinal deformity. In the stockings where it is a fatty mass that causes this disorder, only cosmetic surgery will be effective.
The treatments generally prescribed are as follows:
Postural advice
To undo with a buffalo hump, it is necessary to modify its posture. Indeed, this condition is particularly linked to the following 3 factors:
the shape of the vertebrae;

the head leaning too far forward (repeatedly and/or prolonged);

shoulder blades and shoulders curling forward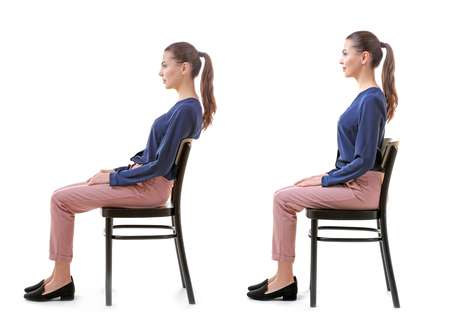 Note: To benefit from advice from the physiotherapist to straighten your back and improve your posture, see the following article.
Food
Generally speaking, diet has very little influence on bison hump. On the other hand, you could be advised to follow a balanced diet rich in fresh vegetables, lean proteins and complex carbohydrates. According to this theory, treating excess weight could help reduce the buffalo hump in some cases.
If the bison hump is accompanied by pain, a anti-inflammatory diet could help relieve symptoms in addition to controlling excess weight.
massage ball
Using a massage (or tennis) ball might help reduce cervico-dorsal kyphosis if it is found to be responsible for your buffalo hump. The principle is simple:
Stand upright with a massage ball between your buffalo hump and the wall
Using your feet, push lightly so that you "smash" your buffalo hump against the wall
Hold for 30 seconds, then repeat 3 times. You may feel a slight stiffness after exercise, but this should subside within a reasonable time.
Do this exercise as regularly as possible, without causing persistent pain. Increase the pressure gradually.
In addition to the massage ball, it is possible to relax the muscles using effective and safe accessories. It is possible to do this independently using the following products (with recommendations):
Manual therapy
Un physiotherapist or osteopath could resort to massages and mobilizations aimed at relieving tense muscles, and mobilizing the cervico-dorsal region. This can be useful if the bison hump is accompanied by neck pain, headaches, tension in the shoulders, etc.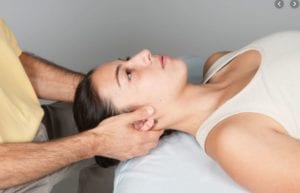 In addition, after cosmetic surgery, massage sessions will also eliminate postoperative edema and soften the operated tissues.
Posture corrector
Although it will not correct the bison hump as such, a posture corrector (like this one), Or postural t-shirt, will avoid sagging the trunk and rolling up the shoulders. This will allow an indirect postural correction which will help in the long run in the treatment of the bison hump.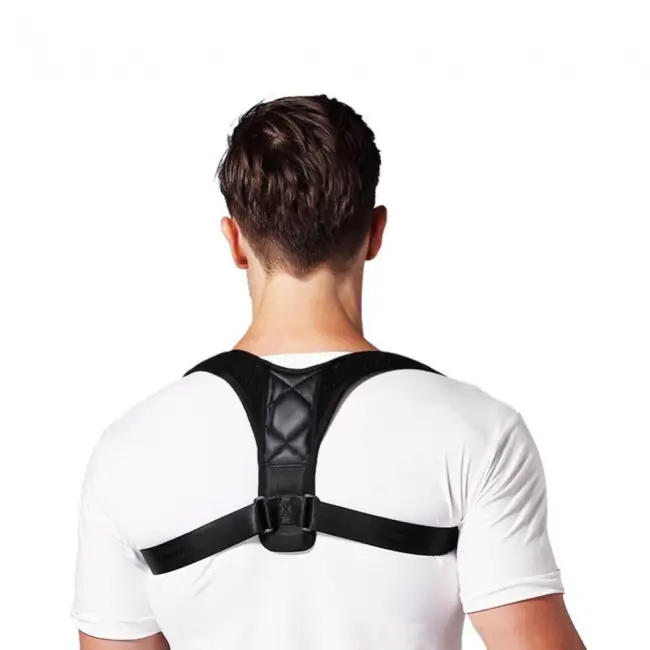 Be careful, excessive use of a posture corrector could prove to be more harmful than beneficial in the long term. To benefit from the physiotherapist's advice on the use of these devices, see the following article.
Exercices
here are some exercises to treat a buffalo hump.
Cervical retraction
Sit down keeping your head straight.
Retract the chin horizontally towards you, so as to create a "double chin". (Avoid tilting your head too much downwards by keeping your gaze horizontal).
Return to the initial position, making sure to avoid throwing your head too far forward.
Repeat ten times, adjusting the range of motion to your comfort.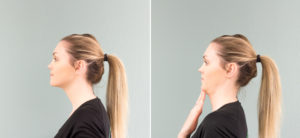 Back extension
Sit down with your head and back straight.
Grab the back of your neck with your hands, keeping your elbows pointing forward (as shown).
In the same movement, bring the elbows up, the back extended and the head backwards.
Slowly return to the initial position.
Repeat ten times, taking breaks as needed.
Scapular retraction
Sit down with your head and back straight. Bring your arms forward.
In the same movement, bring the arms and shoulders back, squeezing the shoulder blades for 3 seconds.
Return to the initial position.
Repeat ten times, taking breaks as needed.
Progression: Add resistance using a therapeutic rubber band.
Exercise standing up against the wall
Stand with your back to the wall. Try to straighten up as much as possible to touch the wall with the back of your head. Raise your arms by lodging the wall, elbows at shoulder height and hands with the palms forward behind the head.
Floor exercise to get rid of a bison hump
Lie on your back on a gym mat. Place your hands on the floor next to your shoulders, palms facing the ceiling. Try to make sure your forearms are in full contact with the floor. In this position, inhale and slide your arms above your head, and return to the starting position while exhaling.
Work the neck muscles
Also consider stretching and strengthening your neck muscles. Better head support not only treats, but also prevent a buffalo hump.
To claim results quickly, it is important to practice your exercises regularly. Also remember to consult a health professional such as a physiotherapist to help you. He will be able to make the diagnosis and advise you on the right exercises to do to help you undo mass on your upper back.
What about cosmetic surgery?
If less invasive methods fail to remove the bump, it is possible to resort to surgery. The intervention consists of a liposuction (or liposuction). In other words, the cosmetic surgeon sucks out the cluster of fat cells contained in the bison hump using a device. This operation is especially indicated if the mass is particularly large.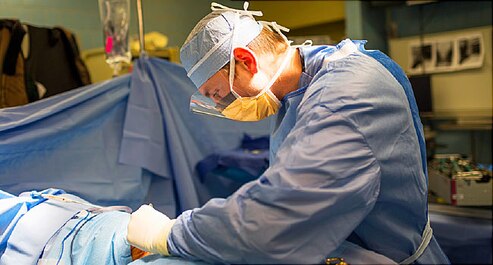 After a standard preoperative blood test, the surgery normally takes place in the clinic under local anesthesia with sedation. General anesthesia may also be performed in some cases. The objectives of liposuction are:
Removing excess fat from the back of the neck
Improvement from an aesthetic point of view
Improved cervical range of motion (if bison hump restricts movement)
This operation is not dangerous, but could affect the lymphatic channels at the back of the skull. Other complications, although rare, include infection, transient anesthesia or bleeding.
After the operation, the patient will be advised to avoid significant exertion for a period of 4-6 weeks as a precaution. On the other hand, recovery is done indoors within a few days, and post-operative pain is generally minimal. Medication may help control symptoms if needed.
If the bison hump comes from an exaggerated cervico-dorsal kyphosis, on the other hand, the operation is not always indicated. Indeed, the cervico-thoracic spine is surrounded by nerves, blood vessels and spinal cord making any surgery in the area quite tricky. Your doctor will judge whether your case requires a more invasive procedure or not.
What about natural remedies?
Although they are not supported by solid scientific evidence, several natural products and home remedies are used to treat various body pains, especially for their anti-inflammatory power.
Here is a non-exhaustive list of plants and essential oils that are effective in controlling pain and inflammation:
Turmeric : Thanks to its antioxidant and anti-inflammatory powers very powerful, turmeric is one of the most used plants in a culinary and therapeutic context. The composition of turmeric is essentially made of essential oils, vitamins (B1, B2, B6, C, E, K) and trace elements. But it is to its composition rich in curcumin and curcuminoids that we owe them and calm skin of this spice.
Ginger : In addition to the special flavor it brings to the kitchen and its aphrodisiac properties, ginger is a root well known for its anti-inflammatory powers. THE gingerol gives it its anti-inflammatory action. It is an active component acting on the inflammatory pain related to chronic joint inflammatory diseases, including rheumatoid arthritis, lupus, rheumatic diseases, etc. It has been proven that this active element is also effective in acting on the inflammation linked to arthritis and sciatica. Ginger also has other benefits thanks to its high potassium content and its richness in trace elements (calcium, magnesium, phosphorus, sodium) and vitamins (provitamin and vitamin B9).
Omega-3s : Omega-3 are polyunsaturated fatty acids that play a very important role in the functioning of our body. They are provided by food in three natural forms: docosahexaenoic acid (DHA), alpha linolenic acid (ALA) and eicosapentaenoic acid (EPA). Beyond their action on the brain and the cardiovascular system, omega-3s prove very effective against inflammation. Indeed, they have the ability to act on the inflammatory mechanisms in osteoarthritis by slowing down cartilage destruction, thus they reduce the intensity of osteoarthritis pain. Sciatica, being most often linked to an inflammation secondary to a herniated disc, it can also respond to omega-3 provided it is consumed regularly. 
No product found.
Lemon eucalyptus: Eucalyptus is a plant most often used in the form of herbal tea or essential oil. She would have anti-inflammatory effects which give it the ability to act on the bone and joint pain in general and the pain of sciatica in particular.
wintergreen : Wintergreen is a shrub from which a very interesting essential oil is extracted. It is one of the most used essential oils in aromatherapy. This oil extracted from the shrub bearing the same name, is used in massage to relieve sciatica and act like a analgesic. Indeed, it provides a heating effect thanks to its ability toactivate blood circulation locally.
Conclusion
To conclude, you should know that the bison hump is not necessarily dangerous, although it often affects self-image and self-esteem. Fortunately, it is quite possible to treat buffalo hump.
On the one hand, you have the various natural means based on a healthy lifestyle, passive mobilizations and physical exercises. On the other hand, if the size of the mass is quite substantial, you can resort to liposuction. In any case, as soon as you feel discomfort in the neck or other symptoms of a bison hump, see a doctor as soon as possible.
References