Article reviewed and approved by Dr. Ibtissama Boukas, physician specializing in family medicine 
What is disc extrusion, and how is it different from other types of herniated disc ? Is it serious (is an operation necessary)?
This popular article explains everything you need to know about disc extrusion.
Contents
Definition and anatomy
Disc extrusion is a specific type of disc herniation. There are 3 types of herniated disc: protrusion, extrusion and sequestration.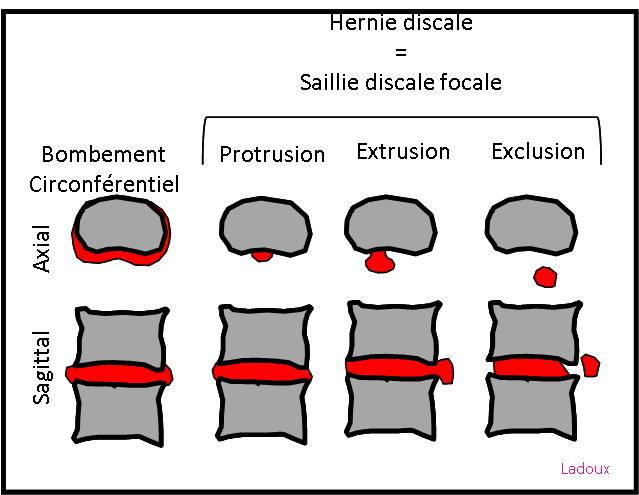 Note: If you haven't already, familiarize yourself with the anatomy of the intervertebral disc to understand disc extrusion, and other types of disc herniation.
As a reminder, disc protrusion refers to a bulging caused by the pressure of the gelatinous nucleus on the fibers of the fibrous annulus. On the other hand, these fibers do not tear unlike other types of herniated disc. There is only a deformation of the intervertebral disc that can cause symptoms, or remain asymptomatic.
In the presence of disc extrusion, precisely, the outer wall of the intervertebral disc (called the fibrous ring) tears, causing the migration of the gelatinous nucleus (nucleus pulposus) outside the disc. This can potentially cause inflammation and irritate surrounding spinal nerves.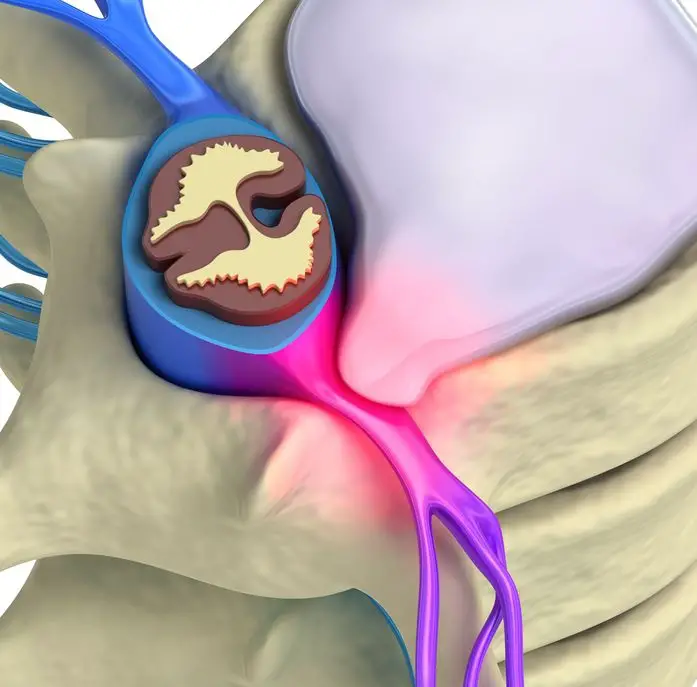 Disc sequestration occurs when the gelatinous nucleus crosses the annulus fibrosus (as in the presence of disc extrusion) BUT it completely separates from the disc. Thus, the detached portion of the disc can "land" somewhere at or near the spinal canal.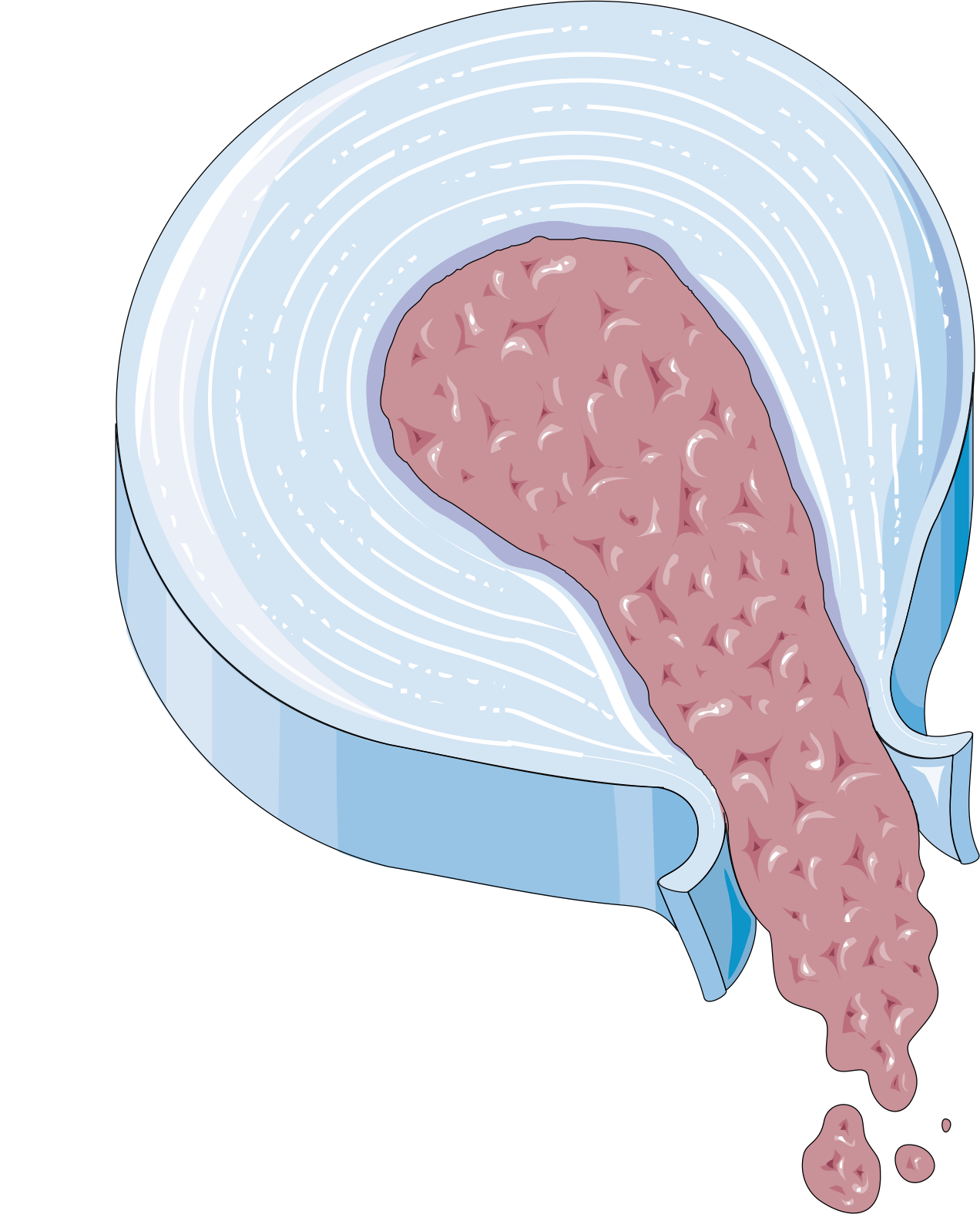 Thus, we understand that disc extrusion can lead to disc sequestration, although this is not always the case. It mainly occurs at the level of the cervical spine and Lumbar spine.
Causes
The causes are similar to those of herniated disc.
To know these reasons, see the following article.
Symptoms of the disease
Disc extrusion is sometimes asymptomatic. In the presence of nerve irritation or inflammation, it can cause pain, muscle spasms, and neurogenic symptoms (numbness, electric shock, tingling, etc.)
To know all the symptoms of herniated disc (including disc extrusion), see the following article.
The most important thing when suffering from disc extrusion is to eliminate a potentially serious condition (such as a compression of the cauda equina or a myelopathy). THE'medical imaging associated with a clinical examination will clarify the diagnosis and guide management.
To find out if your disc extrusion comes from a serious attack, see the following article. 
Treatment
Many people think that disc extrusion is a serious type of disc herniation, and its treatment often requires surgery. This is far from true!
Despite the presence of disc extrusion, it is possible for the disc to heal spontaneously. Healing can also be optimized by treatment modalities as :
Medication
Physiotherapy (physiotherapy)
Osteopathy
Therapeutic exercises
Alternative medicine
Infiltration
surgery
In addition to the treatments mentioned above, there are several products and accessories available on the market to relieve pain related to disc extrusion. It should be remembered that these tools usually provide temporary relief, do not treat the cause, and therefore should be used sparingly.
Among the products recommended by our professionals, we have:
Acupressure Kit Acupressure Mat Cushion - Massage Ball + Pillow + Bag Relieve Back and Neck Pain Muscle Relaxation Acupuncture Post Sport Recovery Anti Stress
【Multifunctional Physiotherapy】The acupressure kit set includes an acupressure mat and pillow, and 2 massage balls. You can use the acupressure set in different ways and on different parts of the body, such as lower back pain, insomnia, chronic stress, fatigue, tension, circulatory disorders, etc.
【Safe and Premium Material】The acupressure mat massager, cushion cover and storage bag are made of 100% cotton, the inside is 21D high-density eco-friendly sponge. The massage nail is made of non-toxic ABS plastic. 100% natural without side effects, hypoallergenic.
【Natural Ancient Indian Healing】 The acupressure mat has 230 massage nails, 6210 massage points, the pillow has 73 massage nails, 1971 massage points. Your weight is evenly distributed into thousands of small pieces to stimulate countless acupuncture points. Ideal for relaxation and promoting circulation. The size of the acupressure mat is 68*42cm, the size of the massage pillow is 37 x 15 x 10cm.
Comfier Heated Lumbar Belt with Massage - Back Heating Pad, Vibration Heated Massager Belt with Auto Shut Off, Gift for Men/Women/Parents…
🔥BODY WARMING – The heating pillow lumbar consists of a built-in heating pad that heats up quickly to provide warmth to treat symptoms, menstrual cramps and stomach ailments, arthritis, leg pain and more.
🔥Vibration Massage - The back massager is integrated with 4 powerful massage motors to deliver a soothing vibrating massage. It helps reduce tension and strain in the neck and shoulders, lower back, lumbar region, thighs and legs.
🔥Customizable massage - This back pain wrap has 3 massage modes, 2 adjustable vibration intensities and 2 heating levels. Allows you to customize a setting for yourself to achieve the ultimate comfort. The heating pad is equipped with overheat protection and automatic shut-off functions to ensure safe use.
Anodyne® Posture Shirt – Women | Back & Shoulder Posture Corrector | Posture Corrector Tee Shirt | Reduces pain and tension | Medically Tested and Approved | Medium – White
POSTURE CORRECTION & MUSCLE ACTIVATION: Patented Neuroband technology activates back and shoulder muscles, reminding your body to align your back and shoulders while providing comfort and freedom of movement.
PAIN AND TENSION REDUCTION: Supports and stabilizes tight muscles in the neck, back and shoulders helping to relieve pain and tension without restricting the muscles.
INJURY PREVENTION: Helps prevent shoulder and back problems by providing support and preventing harmful movements. Recommended for everyday situations including sedentary or physical work, sports activities, housework, etc. The product promotes beneficial working positions by stabilizing weak muscles and aiding alignment, neutralizing the gap between joints.
Promo
ALDOM Muscle Massage Gun Massage Device Deep Muscle Massager with 30 Adjustable Levels 6 Massage Heads and LCD Display Relieve Aches and Stiffness
30 LEVELS Massage Gun:ALDOM massage gun Choose the speed and massage heads that best suit your needs can quickly eliminate lactic acid produced after exercise, and for everyday relieve muscle pain, back and neck aches and stiffness, greatly reducing the time muscle recovery.
Long Battery Life: Equipped with high quality battery, the muscle massager can keep working about 6-8 hours after charging, while the cooling system can effectively remove excess heat, if the battery is low, there will be a red prompt.
Less than 45 dB Ultra Low Noise: ALDOM muscle massager gun which features high performance and low noise. features advanced technology and high-torque non-brushed electric motor, Featuring the high-precision mold which tightly connects the machine head and the body, The high-torque motor rotates 1800-4800 times per minute and achieves your tissue to loosen the fascia (connective tissue)
ECODE Vertebral and Lumbar decompressor LUMBA Plus axial stretching ECO-852
LUMBA +: Uses the neurovertebral decompression technique recognized by INSERM, practiced in osteopathy practices and recognized by the Association of Exclusive Osteopaths. Neurovertebral decompression is a surgical or non-surgical procedure that aims to release pressure on the spinal cord or on the nerves of the spine
Neurovertebral decompression is a key element in the treatment of back pain such as herniated discs, bulging discs, sciatic pain, disc degeneration and osteoarthritis. Vertebral decompression is a principle increasingly used in the treatment of back pain (nerve sciatica stuck, disc pinching, scoliosis, compression of the vertebrae or low back pain).
Let's discover the technique of spinal decompression and see together its effects by stretching against sciatica. Principle of vertebral decompression Vertebral (or neurovertebral) decompression is a gentle treatment used in the event of sciatic nerve stuck, herniated disc or in case of disc pinching.
Core Balance Nipple Massage Roller for Deep Muscle Massage – Gridded Foam Massage Roller – Fitness Foam Roller Ideal for Trigger Point…
BACK MASSAGE ROLLER TO RELIEVE YOUR MUSCLE PAIN: relieve your muscle pain and tension with the Core Balance spiked foam roller. Roll the muscle massage roller placed under your muscles to break up soft tissue adhesions and target painful trigger points (muscle knots).
DEEPER MYOFASCIAL RELEASE: Our back massager roller features a hollow plastic body with a nubby foam exterior for deeper myofascial release. The nubs on this back roller act like the hands and fingers of a massage therapist to target, relax and release tight muscle knots much more effectively.
IMPROVE YOUR PERFORMANCE: Rolling the back roller over your muscles releases toxins, and increases the flow of blood and oxygen to the target area. Massage your muscles with our fitness roller before or after a workout to boost your performance, speed up your recovery time and protect you from injury.
Compex and TENS (electrical stimulation)
Promo
Compex Mixte Sp 4.0 Electrostimulator, Black, One Size EU
Muscle stimulator offering 30 programs: 10 physical preparation programs, 8 pain relief programs, 5 recovery programs, 2 rehabilitation programs and 5 fitness programs.
The partner of your sports preparation, allowing you to prevent injuries, recover better but also relieve your pain.
4 independent channels allowing you to work 2 muscle groups simultaneously.
Easy@Home TENS Unit Pain Relief Massager, EMS Electrostimulator - Backlit LCD Screen Powerful Professional Pulse Intensity and Rechargeable Battery
PREMIUM GRADE, POWERFUL PULSE: Easy@Home TENS PL-029V, professional and effective device for pain relief with electronic muscle stimulation effect. The premium design with powerful, professional-grade pulse intensity is suitable not only for pain relief and muscle relaxation, but also muscle recovery and pain management for both amateur and professional athletes or athletes. regular practitioners.
EFFECTIVE MASSAGE THERAPY: 20 power levels for intensity ranging from very light to extremely powerful, 5 automated massage program options and 3 traditional massage modes. An effective therapy device for pain relief. An ideal gift for Valentine's Day, Mother's Day, Father's Day, Christmas, Birthday.
USER-FRIENDLY: Large backlit LCD display with fully automated, intuitive massage programs and adjustable intensity. Independent digital controls for left and right channels.
To know in detail the treatment options in the presence of disc extrusion (and other types of disc herniation), see the following article.
What about natural remedies?
Although they are not supported by solid scientific evidence, several natural products and home remedies are used to treat various body pains, especially for their anti-inflammatory power.
Here is a non-exhaustive list of plants and essential oils that are effective in controlling pain and inflammation:
Turmeric : Thanks to its antioxidant and anti-inflammatory powers very powerful, turmeric is one of the most used plants in a culinary and therapeutic context. The composition of turmeric is essentially made of essential oils, vitamins (B1, B2, B6, C, E, K) and trace elements. But it is to its composition rich in curcumin and curcuminoids that we owe them and calm skin of this spice.
Ginger : In addition to the special flavor it brings to the kitchen and its aphrodisiac properties, ginger is a root well known for its anti-inflammatory powers. THE gingerol gives it its anti-inflammatory action. It is an active component acting on the inflammatory pain related to chronic joint inflammatory diseases, including rheumatoid arthritis, lupus, rheumatic diseases, etc. It has been proven that this active element is also effective in acting on the inflammation linked to arthritis and sciatica. Ginger also has other benefits thanks to its high potassium content and its richness in trace elements (calcium, magnesium, phosphorus, sodium) and vitamins (provitamin and vitamin B9).
Omega-3s : Omega-3 are polyunsaturated fatty acids that play a very important role in the functioning of our body. They are provided by food in three natural forms: docosahexaenoic acid (DHA), alpha linolenic acid (ALA) and eicosapentaenoic acid (EPA). Beyond their action on the brain and the cardiovascular system, omega-3s prove very effective against inflammation. Indeed, they have the ability to act on the inflammatory mechanisms in osteoarthritis by slowing down cartilage destruction, thus they reduce the intensity of osteoarthritis pain. Since sciatica is most often linked to inflammation secondary to a herniated disc, it can also respond to omega-3s if you consume them regularly. 
No product found.
Lemon eucalyptus: Eucalyptus is a plant most often used in the form of herbal tea or essential oil. She would have anti-inflammatory effects which give it the ability to act on the bone and joint pain in general and the pain of sciatica in particular.
Promo
wintergreen : Wintergreen is a shrub from which a very interesting essential oil is extracted. It is one of the most used essential oils in aromatherapy. This oil extracted from the shrub bearing the same name, is used in massage to relieve sciatica and act like a analgesic. Indeed, it provides a heating effect thanks to its ability toactivate blood circulation locally.
Remember that these products do not replace medical treatment. Do not hesitate to consult for support adapted to your condition.
Resources
thank you for your comeback
How can we improve the article?