Article reviewed and approved by Dr. Ibtissama Boukas, physician specializing in family medicine 
Nowadays, it is possible to learn about your health, better understand your body, find strategies to optimize your quality of life and well-being, etc. It's a good thing, of course.
The problem is that the wrong information can not only confuse you, but also cause you to try solutions that could be harmful to you.
Are you looking for a quality health and wellness website? In this article, I propose 5 sites that will meet your needs, and will offer you useful and effective information. 
Good reading!
"Taking care of yourself is essential. » This is the motto of the site Well-being for all. To help you achieve this, many informative articles are offered. Personal development, self-confidence, happiness, food, health, the content is so vast that it will meet all your needs. As a bonus, an ebook offering 18 secrets of great leaders allowing you to be more confident, happy and motivated is offered.
I had the chance to write a guest post for the site. If you want to know the 8 capital sins not to commit in case of back pain, consult next article.
Here is a very nicely constructed blog, which will inspire you. Beauty, nutrition, decoration, meditation, reading, gardening, Happyness Maker offers rich and varied content that will enhance your days.
As Manue, creator of the blog, says: "Take a little break, without pressure, just you and me, hand in hand, I accompany you during this suspended moment…"
For fans of personal development, goodie mood is a tool of choice. This blog summarizes several books dealing with the subject, in addition to offering interesting and pragmatic content allowing you to become the best version of yourself.
The blog also explores topics such as essential oils, spirituality, the law of attraction, and so on. Personally, I particularly like the section "Quotes" who inspires me every day.
As Élodie, creator of the blog, says: "This blog is a cozy corner where you can pick up the ingredients you prefer to concoct the recipe that suits you best and replenish your spirituality and your optimism. »
A very zen
This blog, I particularly recommend it to those who want to take care of their weight, and / or use fasting to feel better physically and mentally.
In addition to the recipes offered, you can find on A very zen beauty advice, nutrition and dietary supplements, and even sleep!
As Johanna, creator of the blog, says: "Taking time for yourself to maintain good health is a personal act and I encourage everyone to take preventive action. »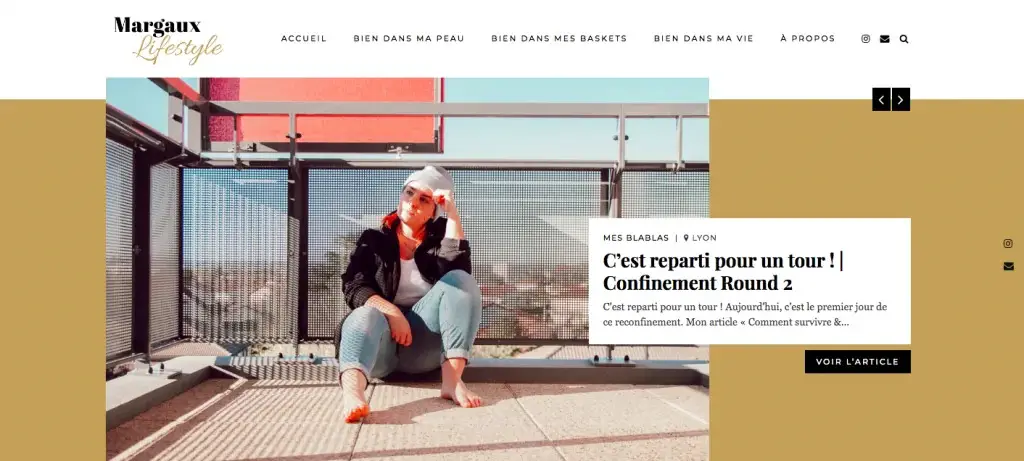 I particularly appreciate this blog for the advice offered to athletes who want to use sport (and especially running!) to feel better about themselves. Also, if you want to lose weight, the blog Margaux Lifestyle contains nutritional and sports advice to help you achieve your goals.
Of course, this wellness blog also covers other topics such as ecology, travel, and the "positive attitude" essential to those who suffer from chronic pain.
As Margaux, creator of the blog, says: "I want to help you understand that the main thing is that you manage to silence that little voice that tells you, 'It's too good to be true, I never 'could make it/never have it'. Forget defeatism and you will have already done 3/4 of the way… '
Conclusion
So much for blogs related to well-being! Above all, do not make the mistake of dissociating your physical pain and your state of mind, because these two elements are intrinsically linked.
Take care of yourself, and you will see results on your back pain. I promise you. It's not for nothing that the motto "A healthy mind in a healthy body" is so popular!
Good recovery!
Sorry you couldn't find an answer to your questions!
Help us improve this article!
How can we improve the article?