Middle back pain (back pain) is not a trivial symptom. It may be the manifestation of an anomaly in the muscular, joint and bone structures located in the region of the dorsal spine. She can also be a referred pain.
Back pain can manifest as severe or moderate pain, tension, tingling, prickling or burning sensation. When this type of symptom is repeated and/or lasts more than 3 months, it is called chronic pain.
This article will differentiate between neck pain, low back pain and back pain. Then, he will list 10 possible causes of pain in the middle of the back as well as what to do in each case.
Definition: Understanding mid-back pain better
Back pain nowadays is the evil of the century because it is very common. Nevertheless, according to the different portions of the back that are affected, there are three groups:
We then speak of neck pain when the pain is located in the upper back at the level of the vertebrae cervical (neck).
We are talking about lumbago when this pain is localized in the lower back at the level of the lumbar vertebrae.
Finally we talk about back pain (which interests us in this article) when the pain is located in the middle of the back at the level of the dorsal vertebrae.
Anatomy of the back and spine
La spine is formed by 7 cervical vertebrae, 12 dorsal or thoracic vertebrae and 5 lumbar vertebrae. Moreover there is the sacrum and the coccyx which are welded vertebrae being added following the last vertebrate lumbar.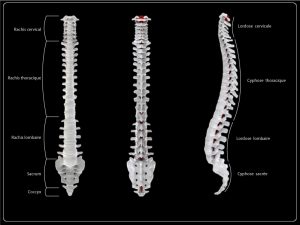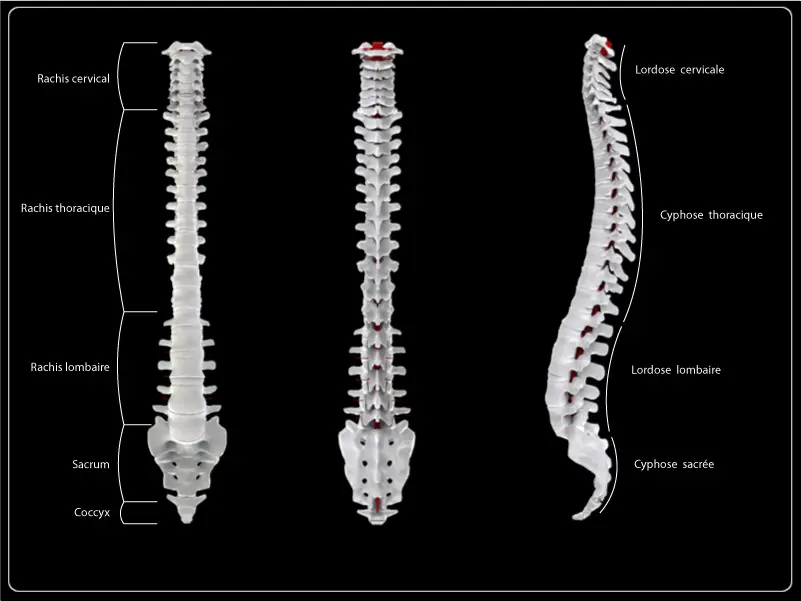 Between the mobile vertebrae there are intervertebral discs which allow the movements of the spine and act as a shock absorber. The vertebrae have a hole in their center which forms the Spinal canal.
It is in this channel that the spinal cord. The latter divides into nerve roots that emerge from the vertebrae and will innervate a specific part of the body. All around the spine and spinal cord, ligaments and muscles powerful come to reinforce this framework.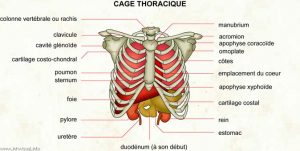 The dorsal vertebrae support the rib cage which contains vital organs such as the heart, large vessels (aorta, pulmonary artery), lungs, trachea and esophagus. This part of the spine is characterized as being less mobile than the others (cervical and lumbar). Any malfunction will therefore be a source of pain or a feeling of blockage.
10 Possible Causes of Middle Back Pain You Shouldn't Miss
Le middle back pain can have various origins. Most of the time, it is due to a fall, too sudden an effort or a prolonged position. The back pain most of the time settle gradually. Their causes can be classified as follows: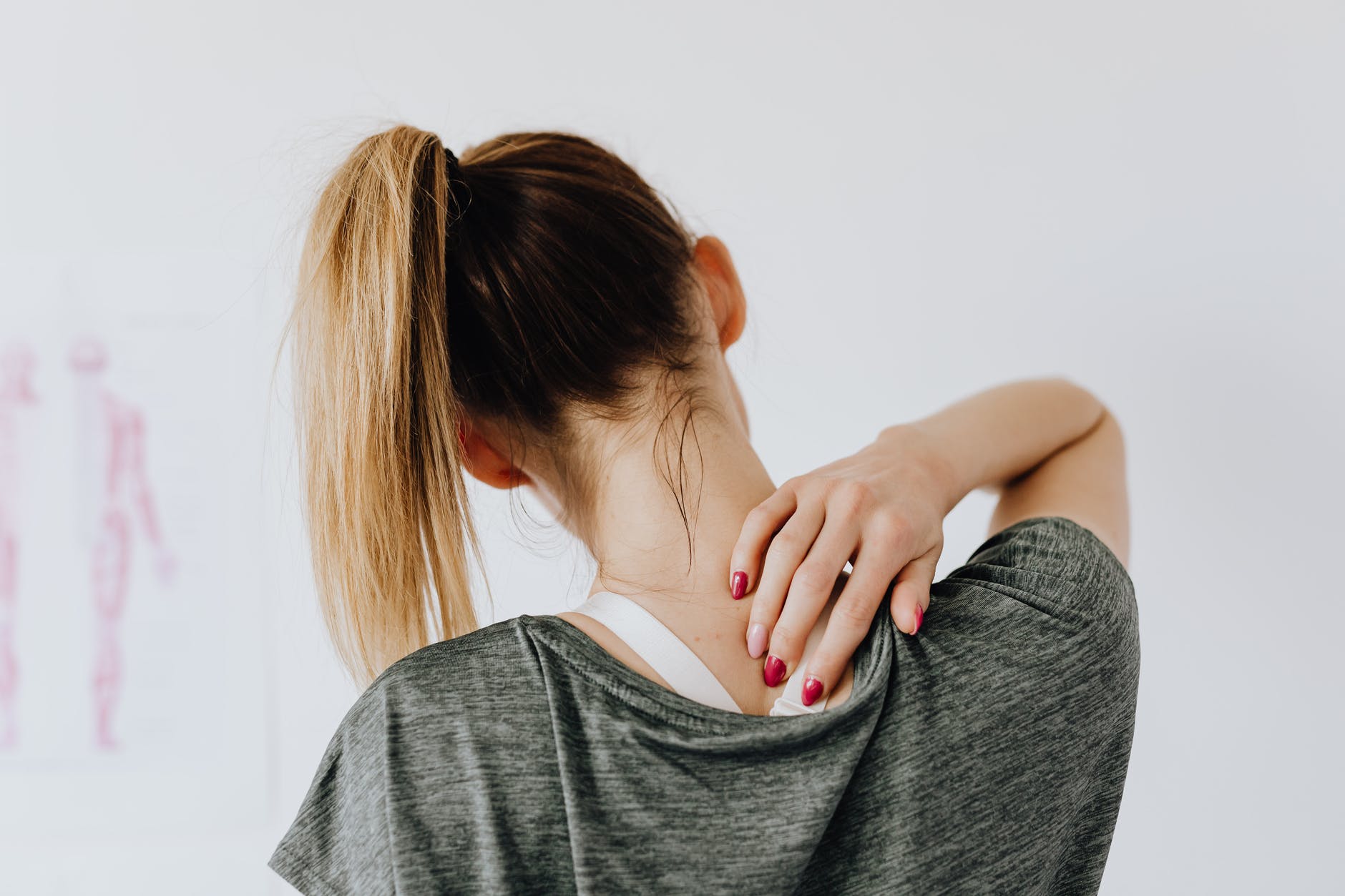 1- Mechanical causes
A pain between the shoulder blades can appear following certain movements, like leaning forward ou marcher. It can also appear when you stay in one position for too long. For example, someone who works sitting in front of a computer and stay too long in this position, will develop long-term back pain.
The same is true for workers who stand for a long time. Thus, a lack of movement in general will lead to muscle weakness in the back.
This back pain can be aggravated by actions as innocuous as deep breathing, coughing or to sneeze.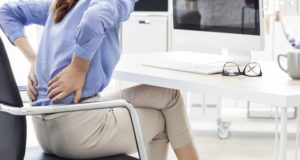 2- Traumatic causes
Several traumatic incidents can cause back pain. This is a public road accident (AVP), a sudden impact, a kick, etc. In cases of trauma, note that the spinal cord is at risk of being affected. This could therefore lead to neurological problems such as paraplegia.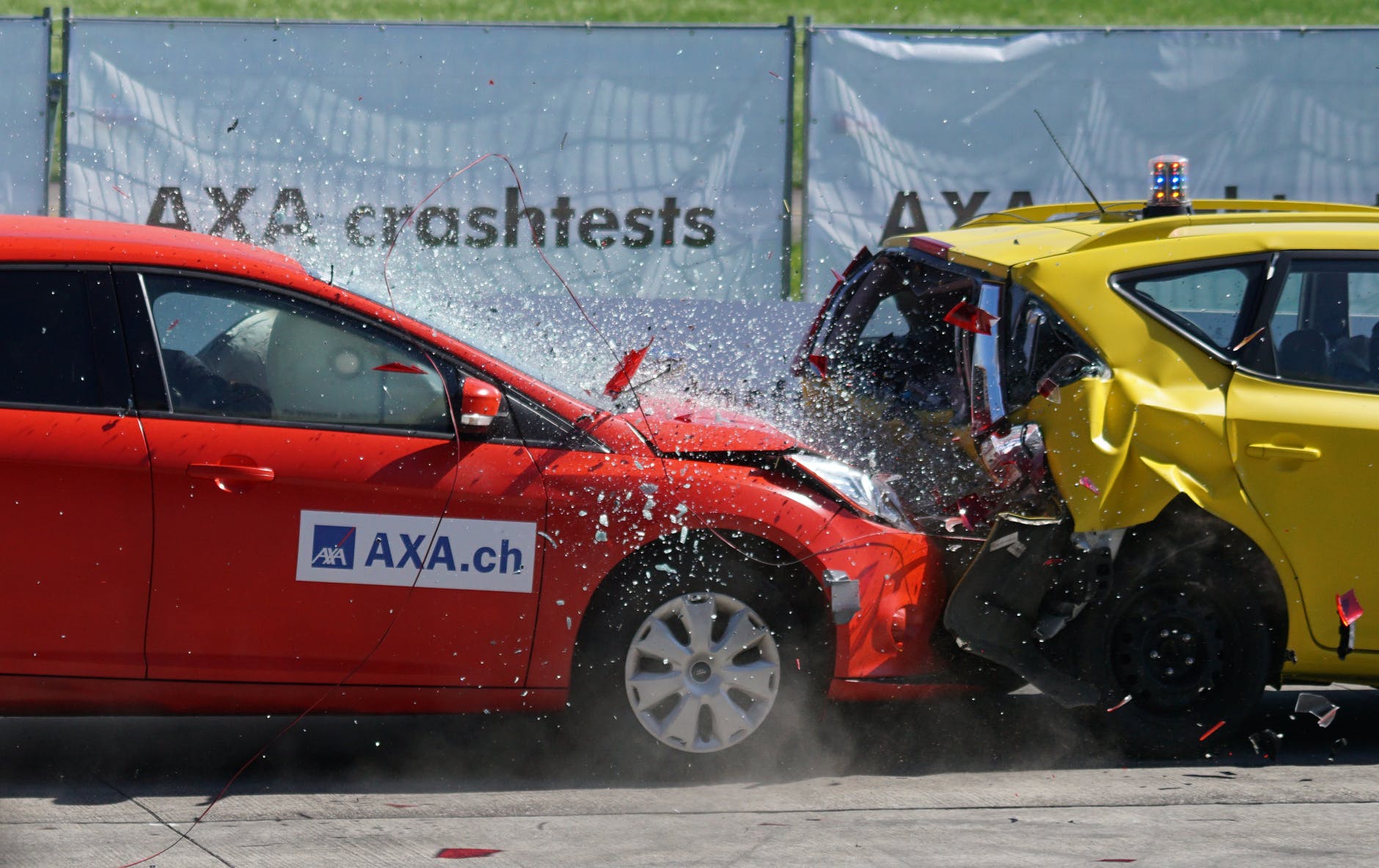 3- Rheumatological causes
Rheumatological causes that lead to back pain occur in patients aged 60 and over. We can cite among others:
arthritis: from the prefix "arthro" which means "joint" and the suffix "itis" which means "inflammation", it is a general term which includes any form oftissue inflammation, acute or chronic stage, and may affect one or more joints of the dorsal spine.
back osteoarthritis : it is characterized by a destruction of cartilage at the level of the dorsal vertebrae which extends to all the structures, in particular to the bone and to the synovial tissue. In osteoarthritis, the cartilage loses thickness, cracks and eventually disappears. This leads to pain and major disability.
osteoporosis : it is a disease of the bone which is characterized by a decreased bone density dorsal vertebrae. This condition leads to changes in the micro architecture of the bone which becomes fragile. The bone is less resistant to shocks. Of the broken bones easily occur as a result of minor trauma such as a fall from one's own height, a stumble while walking, etc.
La ankylosing spondylitis is a rheumatological cause of back pain particular in that it is found in young people, generally in men aged 15 to 40 years. There ankylosing spondylitis is a chronic and progressive disease, which leads to a progressive joint stiffness, hence the term "ankylosing". In the long term, the vertebrae can fuse together, causing pronounced stiffening of the spine.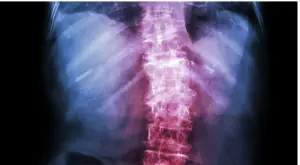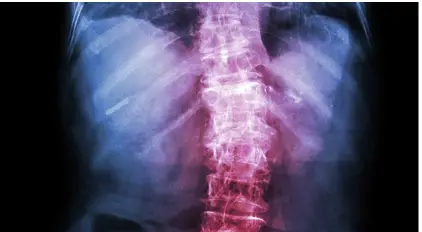 4- Degenerative causes
The most concrete example is the herniated disc. Like all other causes of degenerative mid-back pain, it is associated with physical inactivity and aging. This dysfunction of intervertebral disc caused by the herniated disc is often the cause of disc degeneration, which leads to significant back pain.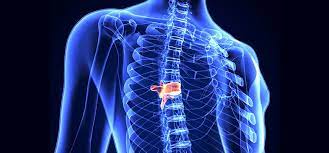 To learn more about back hernia, see the following article.
5- Physiological causes
Here we are evoking in women the pregnancy which can cause pain in the middle of the back. Menstruation and menopause are two other physiological factors that can cause back pain in women.
Finally, back pain can also reflect a cause cardiac (6) vascular (7) pulmonary (8) visceral (9) digestive (10) or pathologies of the type Scoliosis (11). It is therefore important to consult a specialist in the event of prolonged back pain.
What to do in the face of pain in the middle of the back? (solutions)
The causes of pain in the middle of the back being multiple, a treatment will be undertaken according to the type of back pain. There support will differ then depending on whether it is degenerative back pain, back pain of traumatic origin, whether the pain comes from the bones, the muscles or the intervertebral disc.
In general the state of repos accompanied by painkillers helps relieve pain. This solution is only temporary but will not address the cause.
For the causes mechanical, it is important not to stay in the same position for a long time. Do not hesitate to move regularly and stretch your back to relieve it. It is also necessary to take short but regular breaks (rather than infrequent long breaks) to prevent the onset of back pain.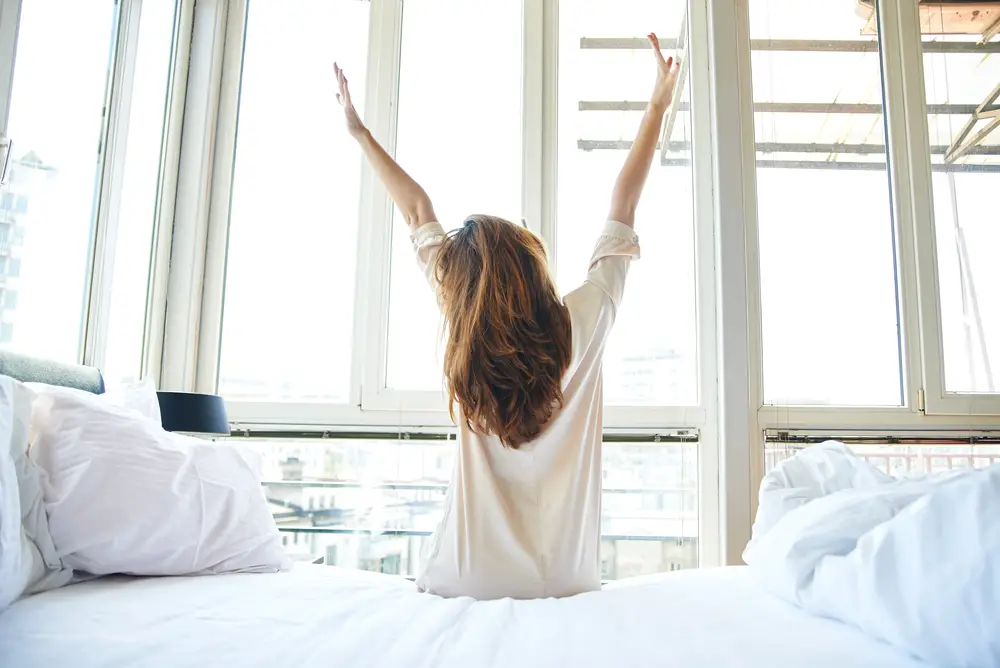 In addition, it is advisable to succeed in compensating for this type of habit (prolonged identical position) by activities such as gymnastics with a ball to restore mobility and reduce damage. In some cases, a posture corrector (like this one) can relieve symptoms in the short term, although it is best to use this type of accessory sparingly.
A qualified practitioner (such as an osteopath or physiotherapist) will know relax tense muscles through manual techniques. In addition, it is possible to self-treat using effective and safe accessories. The following products, while not addressing the cause of the pain, provide temporary relief for many individuals:
Causes of back pain Injurious as for them, they can be treated if they are not benign. In case of fractures, the treatment can be surgical. The rest of the treatment will require rehabilitation with a physiotherapist (physiotherapist) obligatorily.
Rheumatic or rheumatological pathologies, causes of back pain, will be treated first of all with analgesic and anti-inflammatory drugs. If this solution is not effective, it is possible to make infiltrations corticosteroids.
Regarding the causes degenerative and physiological, it is important to follow a healthy lifestyle and adopt good eating or physical habits. It is also essential to optimize your quality of sleep (for example by using a memory foam orthopedic pillow like this).
Old age should not prevent movement. the gardening for example is an activity that will allow the elderly to not remain sedentary.
So you might need a nutritionist to help with a better diet (such as a anti-inflammatory diet). The practice of regular physical activity supervised by a physiotherapist (physiotherapist) is also essential for the proper functioning of your back.
La swimming is particularly recommended for the back. The practice of yoga is also an alternative solution, as is Pilates.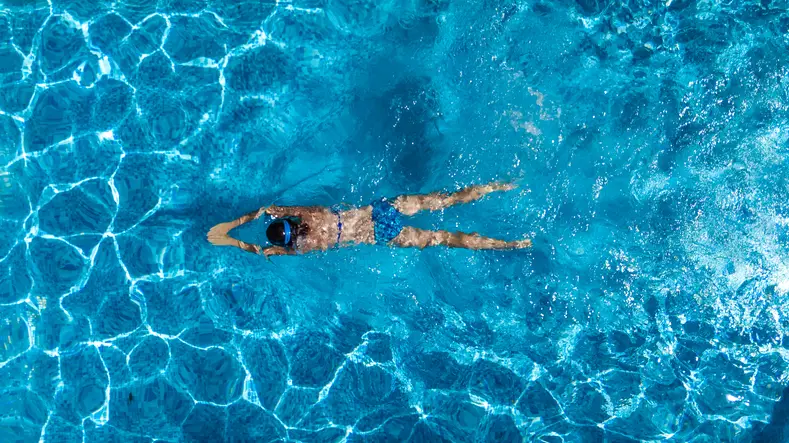 Prevention of back pain (avoid recurrence of injury)
There are easy techniques that can be performed at home on a daily basis, allowing prevent back pain especially the one felt in the middle of the spine. You can perform exercises to strengthen your back and improve your posture (not to be confused with bad posture) :
Lying on your stomach, face against the ground, your arms are extended in the continuity of your body, lift your thighs one by one, then your arms. Do not go too high, a small amplitude will be beneficial if you contract the muscles of the back of your back well (thighs, buttocks, back, neck…).
Fullerenes Stretching : To properly stretch your back, kneel down, sit on your buttocks, move your hands forward, trying to reach a point as far in front of you as possible on the floor. You don't have to take your butt off your heels to be effective.

Beyond these exercises, there are many others. These allow to strengthen the different parts of your back (lumbar, dorsal, cervical, etc.). Consulting a physiotherapist (physiotherapist) will therefore be necessary to guide you in exercises adapted to your course.
If the pain persists or get worse, it is important to consult a healthcare professional to clarify the diagnosis and guide treatment.
What about natural remedies? (alternative solutions)
Although they are not supported by solid scientific evidence, several natural products and home remedies are used to treat various body pains, especially for their anti-inflammatory power.
Here is a non-exhaustive list of plants and essential oils that are effective in controlling pain and inflammation:
Turmeric : Thanks to its antioxidant and anti-inflammatory powers very powerful, turmeric is one of the most used plants in a culinary and therapeutic context. The composition of turmeric is essentially made of essential oils, vitamins (B1, B2, B6, C, E, K) and trace elements. But it is to its composition rich in curcumin and curcuminoids that we owe them and calm skin of this spice.
Ginger : In addition to the special flavor it brings to the kitchen and its aphrodisiac properties, ginger is a root well known for its anti-inflammatory powers. THE gingerol gives it its anti-inflammatory action. It is an active component acting on the inflammatory pain related to chronic joint inflammatory diseases, including rheumatoid arthritis, lupus, rheumatic diseases, etc. It has been proven that this active element is also effective in acting on the inflammation linked to arthritis and sciatica. Ginger also has other benefits thanks to its high potassium content and its richness in trace elements (calcium, magnesium, phosphorus, sodium) and vitamins (provitamin and vitamin B9).
Omega-3s : Omega-3 are polyunsaturated fatty acids that play a very important role in the functioning of our body. They are provided by food in three natural forms: docosahexaenoic acid (DHA), alpha linolenic acid (ALA) and eicosapentaenoic acid (EPA). Beyond their action on the brain and the cardiovascular system, omega-3s prove very effective against inflammation. Indeed, they have the ability to act on the inflammatory mechanisms in osteoarthritis by slowing down cartilage destruction, thus they reduce the intensity of osteoarthritis pain. Since sciatica is most often linked to inflammation secondary to a herniated disc, it can also respond to omega-3s if you consume them regularly. 
Lemon eucalyptus: Eucalyptus is a plant most often used in the form of herbal tea or essential oil. She would have anti-inflammatory effects which give it the ability to act on the bone and joint pain in general and the pain of sciatica in particular.
wintergreen : Wintergreen is a shrub from which a very interesting essential oil is extracted. It is one of the most used essential oils in aromatherapy. This oil extracted from the shrub bearing the same name, is used in massage to relieve sciatica and act like a analgesic. Indeed, it provides a heating effect thanks to its ability toactivate blood circulation locally.
References
https://www.omron-healthcare.fr/fr/sante-et-style-de-vie/gestion-de-la-douleur/maux-et-douleurs-corporels/le-mal-au-dos-typologie-causes-et-traitement.html#:~:text=Les%20causes%20du%20mal%20au,la%20plupart%20du%20temps%20progressivement.