Lumbar osteoarthritis is a degenerative condition that affects the spine, specifically the lower back. This condition can cause a lot of pain and discomfort and, in some cases, it may also lead to other problems de health.
Recently, scientists have explored the link between lumbar osteoarthritis and colopathy, or intestinal problems.
In this article, we'll look at the research that has been done on this topic and what it might mean for people with lower back osteoarthritis.
Contents
Lumbar Spine Anatomy: Definition
La lumbar spine is composed of vertebrae, discs, facets, nerves and ligaments. The vertebrae are the bones that make up the spine. Each vertebrate is separated from the next by a disc.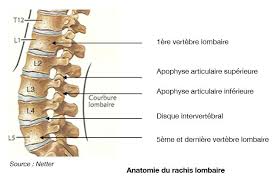 The discs act as shock absorbers for the spine. The facet joints are located behind each vertebra. They connect the vertebrae together and allow the spine to move.
The nerves are located in the spinal cord and send signals from the brain to the rest of the body. The ligaments are located between the vertebrae and hold them together.
Definition of lumbar osteoarthritis
Lumbar osteoarthritis is a condition in which the joints at the bottom of the spine are damaged.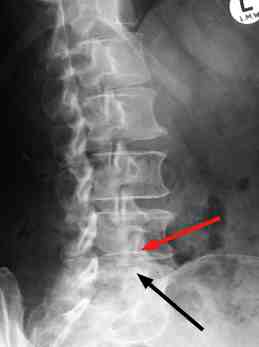 This can lead to pain, stiffness and reduced mobility. Lumbar osteoarthritis is most often due to joint wear, but it can also be caused by injury or inflammation.
Treatment for lumbar osteoarthritis usually consists of a combination of pain medication, physical therapy, and exercise. In some cases, infiltration and even surgery may be needed to relieve pain and improve function.
Causes and symptoms of lumbar osteoarthritis
Lumbar osteoarthritis is a degenerative joint disease that affects the bottom of the spine. The most common symptom is lower back pain, which can range from mild to severe.
Other symptoms may include:
Stiffness,
The sensibility
And a reduced range of motion.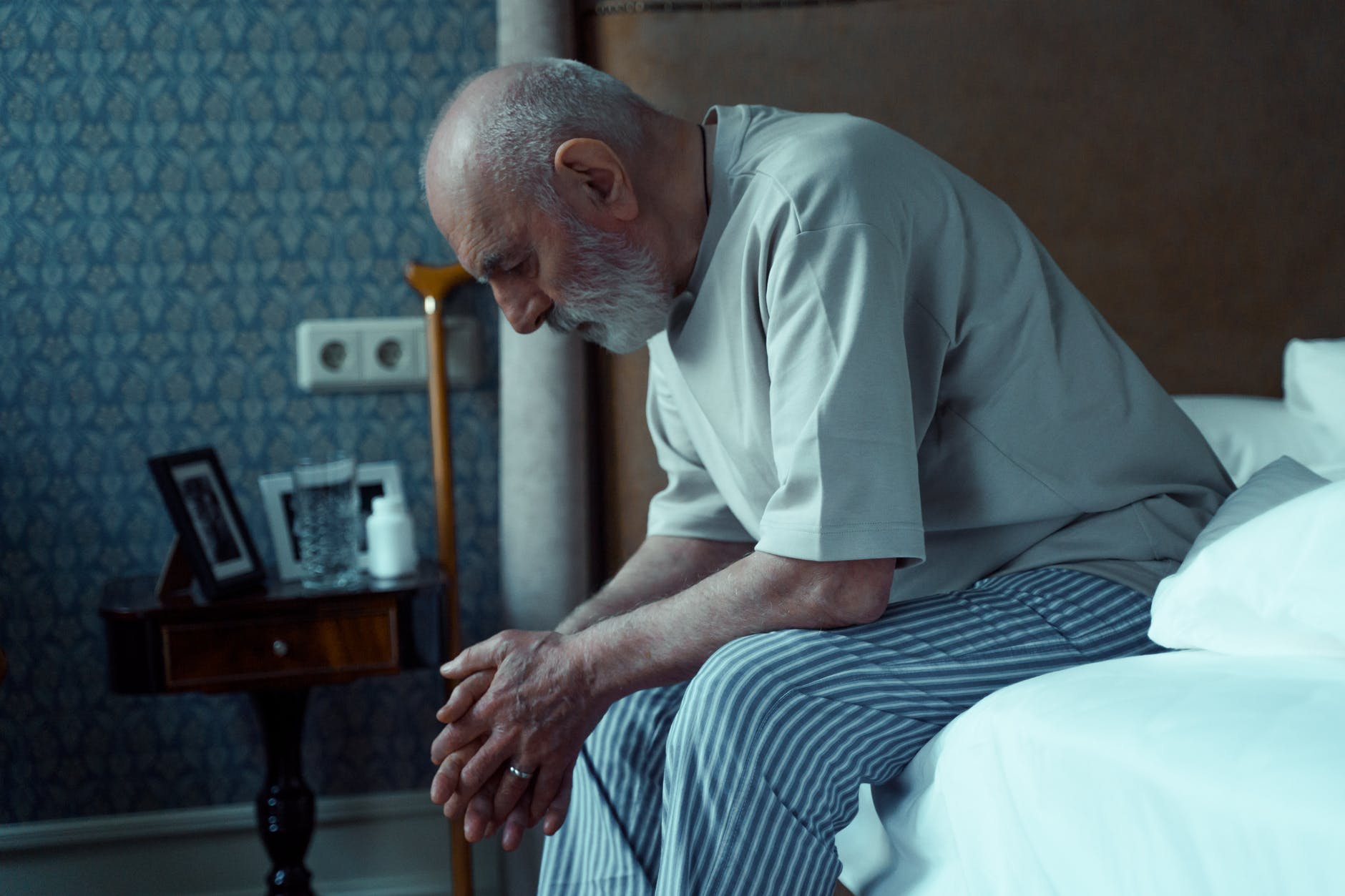 The exact cause of lumbar osteoarthritis is unknown, but it is thought to be due to joint wear. Risk factors include:
The age
The weight,
Genetic
Previous injuries.
Link between lumbar osteoarthritis and intestines
In recent years, research on the link between lumbar osteoarthritis and the intestines have multiplied. Osteoarthritis is a type of degenerative joint disease which most often affects the joints of the spine.
The intestines are a long, coiled tube that runs from the stomach to the anus. They are responsible for the digestion of food and nutrient absorption.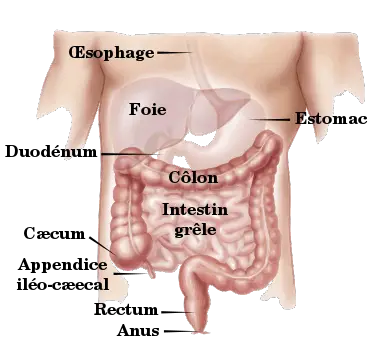 There are a number of theories about the connection between osteoarthritis and the intestines. One theory suggests that osteoarthritis could be caused by inflammation in the gut. This inflammation may occur in response to a bacterial infection ou viral, or be caused by an allergy or Food intolerance.
Another theory suggests that osteoarthritis can be caused by a buildup of toxins in the gut. This buildup may be due to a diet high in processed foods or a sedentary lifestyle.
Although the exact link between lumbar osteoarthritis and the intestines is not yet fully understood.
What is the connection between the psoas and intestinal pain?
Le psoas, also known as from "Iliopsoas", is a large muscle that runs from the lower back to the thigh. It constitutes an important part of core muscles and plays a key role in the movement.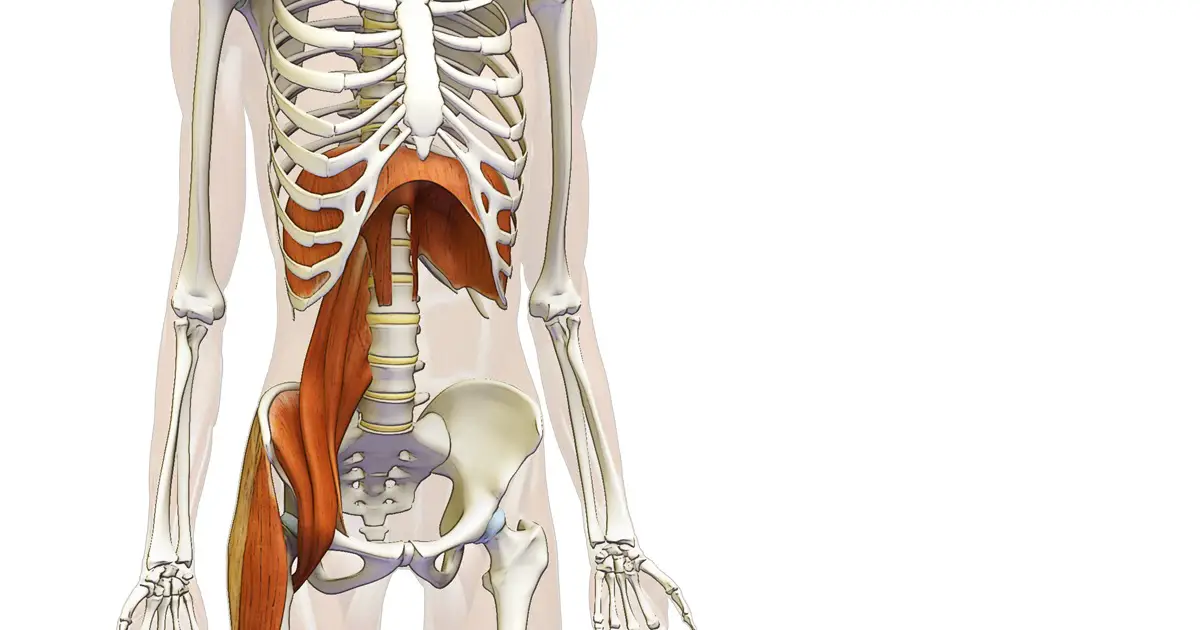 The psoas is also closely related to the intestine. In fact, he shares a common nerve root with intestine, and there are strong anatomical and physiological connections between the two.
Recent research has shown that there is a link between psoas pain and bowel disorders. It has been revealed that people with Down Syndrome irritable bowel (SCI) were more likely to have psoas pain than people without SCI.
Science has also shown that people with inflammatory bowel disease (IBD) are more likely to suffer from psoas than the others. The exact mechanism of this link is not yet known, but it is thought that the psoas could play a role in the regulation of intestinal motility and inflammation.
The link between the psoas and bowel disorders is still being explored, but it is clear that there is a connection. This link may be useful for diagnose and treat both pathologies.
To learn more about the link between psoas and intestine, see the following article.
What is the link between a herniated disc and intestinal problems?
When a disc of the spine herniates or swells, it can put pressure on the spinal cord or nerves. This pressure can cause pain, numbness, and weakness in the arms or legs.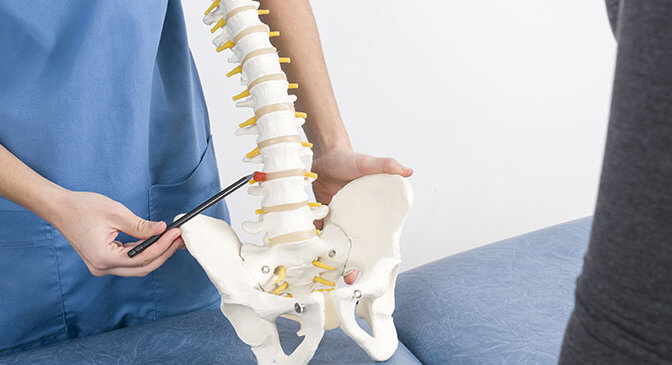 A herniated disc can also lead to intestinal problems. The reason for this link is that the nerves that control the intestines are located near the discs in the lower back.
When a disk breaks, it can putting pressure on these nerves and causing intestinal upset such as constipation, diarrhea or incontinence. In some cases, a herniated disc can also cause abdominal pain.
To learn more about the link between herniated disc and intestine, see the following article.
If you have back pain and also suffer from digestive disorders or abdominal pain, talk to your doctor. He will be able to determine if the two conditions are related and develop a treatment plan accordingly.
The intimate connection between the spine and the digestive system
Many people don't realize that the spine doesn't just house the spinal cord. It also protects a number of delicate nerves which are essential for the proper functioning of the digestive system.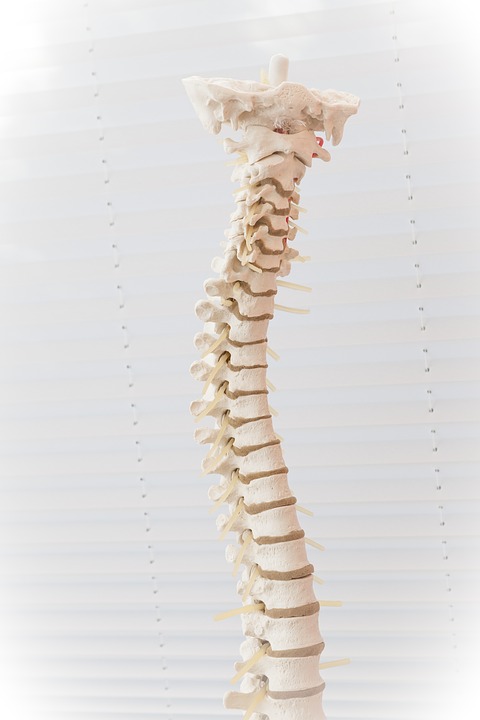 These nerves are located in the thoracic and lumbar regions of the spine. And when they are compressed or irritated, this can lead to digestive problems.
A number of conditions can cause compression of these nerves. One of them is called vertebral subluxation. It occurs when one or more vertebrae in the spine are displaced. It should be noted, however, that this concept not unanimous to the medical and scientific community.
Another condition is herniated disc. It occurs when the soft, gelatinous center of a disc protrudes through a outer layer tear. THE herniated discs may be caused by injury or degeneration due to aging.
If you have digestive problems, it is important to see a doctor to rule out serious conditions. But if your doctor finds that your spine is causing the problem, there are a number of treatments that can provide relief. These include:
chiropractic adjustments,
physiotherapy (physiotherapy),
And osteopathy.
Accessories and products against back pain
Acupressure Kit Acupressure Mat Cushion - Massage Ball + Pillow + Bag Relieve Back and Neck Pain Muscle Relaxation Acupuncture Post Sport Recovery Anti Stress
【Multifunctional Physiotherapy】The acupressure kit set includes an acupressure mat and pillow, and 2 massage balls. You can use the acupressure set in different ways and on different parts of the body, such as lower back pain, insomnia, chronic stress, fatigue, tension, circulatory disorders, etc.
【Safe and Premium Material】The acupressure mat massager, cushion cover and storage bag are made of 100% cotton, the inside is 21D high-density eco-friendly sponge. The massage nail is made of non-toxic ABS plastic. 100% natural without side effects, hypoallergenic.
【Natural Ancient Indian Healing】 The acupressure mat has 230 massage nails, 6210 massage points, the pillow has 73 massage nails, 1971 massage points. Your weight is evenly distributed into thousands of small pieces to stimulate countless acupuncture points. Ideal for relaxation and promoting circulation. The size of the acupressure mat is 68*42cm, the size of the massage pillow is 37 x 15 x 10cm.
Comfier Heated Lumbar Belt with Massage - Back Heating Pad, Vibration Heated Massager Belt with Auto Shut Off, Gift for Men/Women/Parents…
🔥BODY WARMING – The heating pillow lumbar consists of a built-in heating pad that heats up quickly to provide warmth to treat symptoms, menstrual cramps and stomach ailments, arthritis, leg pain and more.
🔥Vibration Massage - The back massager is integrated with 4 powerful massage motors to deliver a soothing vibrating massage. It helps reduce tension and strain in the neck and shoulders, lower back, lumbar region, thighs and legs.
🔥Customizable massage - This back pain wrap has 3 massage modes, 2 adjustable vibration intensities and 2 heating levels. Allows you to customize a setting for yourself to achieve the ultimate comfort. The heating pad is equipped with overheat protection and automatic shut-off functions to ensure safe use.
Anodyne® Posture Shirt – Women | Back & Shoulder Posture Corrector | Posture Corrector Tee Shirt | Reduces pain and tension | Medically Tested and Approved | Medium – White
POSTURE CORRECTION & MUSCLE ACTIVATION: Patented Neuroband technology activates back and shoulder muscles, reminding your body to align your back and shoulders while providing comfort and freedom of movement.
PAIN AND TENSION REDUCTION: Supports and stabilizes tight muscles in the neck, back and shoulders helping to relieve pain and tension without restricting the muscles.
INJURY PREVENTION: Helps prevent shoulder and back problems by providing support and preventing harmful movements. Recommended for everyday situations including sedentary or physical work, sports activities, housework, etc. The product promotes beneficial working positions by stabilizing weak muscles and aiding alignment, neutralizing the gap between joints.
Promo
ALDOM Muscle Massage Gun Massage Device Deep Muscle Massager with 30 Adjustable Levels 6 Massage Heads and LCD Display Relieve Aches and Stiffness
30 LEVELS Massage Gun:ALDOM massage gun Choose the speed and massage heads that best suit your needs can quickly eliminate lactic acid produced after exercise, and for everyday relieve muscle pain, back and neck aches and stiffness, greatly reducing the time muscle recovery.
Long Battery Life: Equipped with high quality battery, the muscle massager can keep working about 6-8 hours after charging, while the cooling system can effectively remove excess heat, if the battery is low, there will be a red prompt.
Less than 45 dB Ultra Low Noise: ALDOM muscle massager gun which features high performance and low noise. features advanced technology and high-torque non-brushed electric motor, Featuring the high-precision mold which tightly connects the machine head and the body, The high-torque motor rotates 1800-4800 times per minute and achieves your tissue to loosen the fascia (connective tissue)
ECODE Vertebral and Lumbar decompressor LUMBA Plus axial stretching ECO-852
LUMBA +: Uses the neurovertebral decompression technique recognized by INSERM, practiced in osteopathy practices and recognized by the Association of Exclusive Osteopaths. Spinal neurodecompression is a surgical or non-surgical procedure that aims to release pressure on the spinal cord or spinal nerves
Neurovertebral decompression is a key element in the treatment of back pain such as herniated discs, bulging discs, sciatic pain, disc degeneration and osteoarthritis. Vertebral decompression is a principle increasingly used in the treatment of back pain (nerve sciatica stuck, disc pinching, scoliosis, compression of the vertebrae or low back pain).
Let's discover the technique of spinal decompression and see together its effects by stretching against sciatica. Principle of vertebral decompression Vertebral (or neurovertebral) decompression is a gentle treatment used in the event of sciatic nerve stuck, herniated disc or in case of disc pinching.
Core Balance Nipple Massage Roller for Deep Muscle Massage – Gridded Foam Massage Roller – Fitness Foam Roller Ideal for Trigger Point…
BACK MASSAGE ROLLER TO RELIEVE YOUR MUSCLE PAIN: relieve your muscle pain and tension with the Core Balance spiked foam roller. Roll the muscle massage roller placed under your muscles to break up soft tissue adhesions and target painful trigger points (muscle knots).
DEEPER MYOFASCIAL RELEASE: Our back massager roller features a hollow plastic body with a nubby foam exterior for deeper myofascial release. The nubs on this back roller act like the hands and fingers of a massage therapist to target, relax and release tight muscle knots much more effectively.
IMPROVE YOUR PERFORMANCE: Rolling the back roller over your muscles releases toxins, and increases the flow of blood and oxygen to the target area. Massage your muscles with our fitness roller before or after a workout to boost your performance, speed up your recovery time and protect you from injury.
Promo
Compex Mixte Sp 4.0 Electrostimulator, Black, One Size EU
Muscle stimulator offering 30 programs: 10 physical preparation programs, 8 pain relief programs, 5 recovery programs, 2 rehabilitation programs and 5 fitness programs.
The partner of your sports preparation, allowing you to prevent injuries, recover better but also relieve your pain.
4 independent channels allowing you to work 2 muscle groups simultaneously.
In some rare cases, surgery may be needed to correct the problem. But thanks to a appropriate treatment, many people can be relieved of their digestive problems and regain a normal life.
thank you for your comeback
How can we improve the article?