Le lumbar cushion for car is an often overlooked accessory, but did you know that it can be very useful, not only for the comfortBut also for the health of your back ? Indeed, the car seats are not always designed to provide good lumbar support, which can cause or promote lower back pain and strain, especially on long journeys.
In this article we will talk about the positives and negatives of this device. We are also going to tell you the parameters to take into account if you want to buy one. Besides, we are going to give you our car lumbar cushion recommendations to help you make the right choice.
Product
car lumbar cushion
Who is it for?
– People who travel by car regularly and who make long journeys (driver or passenger)
– People who suffer from chronic lower back pain
– People who suffer from sciatica, herniated disc or arthritis
The inconvenients
– Sometimes difficult to adjust
– Sometimes uncomfortable for certain areas of the back
– Some cushions lose their shape after a while
Our opinion
– Appreciated by the majority of users
– Effective to allow driving comfort
– Worth a try
The alternatives
- Heating pad for the back
- Lumbar belt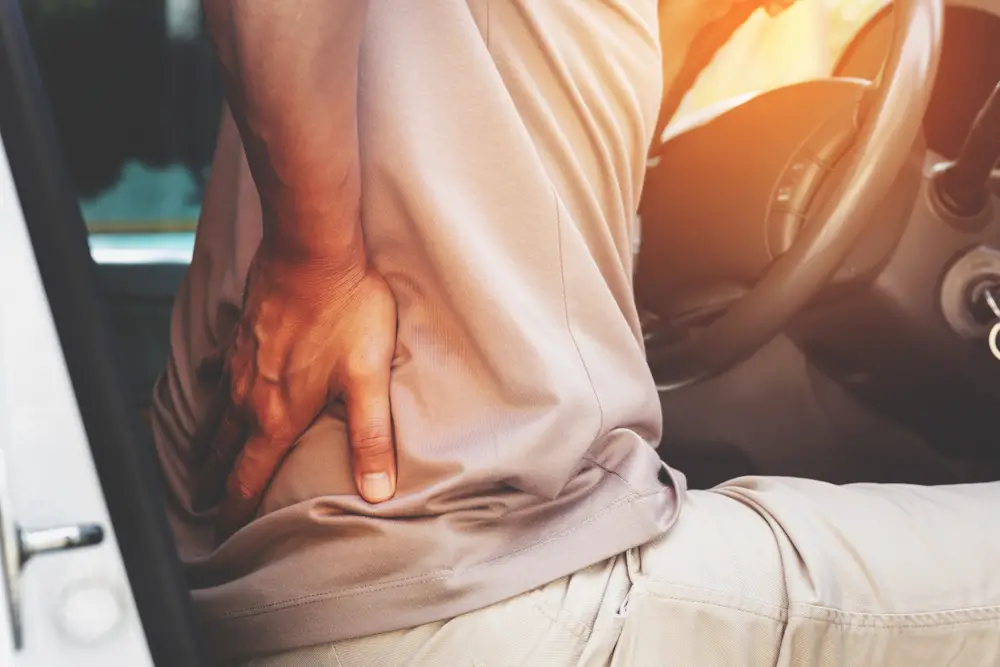 Contents
Our recommendations
Here is our best selection of car lumbar cushion. We chose them based on user reviews and our expertise. Whatever you choose, you won't regret it.
Zoom on the vehicle lumbar cushion
What is a lumbar pillow?
Le lumbar cushion is an accessory orthopedic. We tend to consider it as a medical device, but in reality, we can obtain it without first consulting a health professional.
By definition, as its name suggests, it is a cushion intended for support the lumbar region, that is to say the lower back. THE ranges for cars are installed at the level of the seats, often by adjustable straps.
Car lumbar cushion: for whom?
Le lumbar cushion is intended for all people who spend long periods sitting in a position that puts excessive pressure on the lumbar region and who also have to use a car.
This device is also very useful if you are part of the following list:
un professional driver (driver, trucker, etc.);
a person who performs long car journeys ;
un traveler by car ;
a person who suffers from lower back pain, de sciatica, herniated disc, cruralgia... ;
a Old person who should use the car;
a person who wishes improve comfort when using his car (driver or passenger).
What are the characteristics of this orthopedic device?
The characteristics of lumbar cushions for cars
Mediafixer lumbar pillows for cars are designed to provide additional support and comfort to the lumbar region of the spine, especially while driving. To do this, they must have certain characteristics. Here are the common characteristics of these cushions.
Size : car lumbar cushions are generally of looking cut.
Form : their shape must be curved so that it can follow the contours of the lumbar spine.
building material : in general, these cushions are made from breathable materials such as memory foam, polyurethane foam, gel, mesh fabric, leather or velor fabric.
Firmness : this is a very important characteristic, since it is on this that the comfort and support that the cushions can provide depend. It is therefore variable depending on the type of car lumbar cushion. Some even come with an inflation valve to adjust the firmness to your preference.
Ergonomics : For optimal support, these pillows are designed to conform to the natural curve of your lumbar spine. Some have a wave or bump shape to target areas of tension and pain.
Portability : Car lumbar pillows are often lightweight and portable. Thus, they are easily used in other situations. For example, when you are driving, or when you are going to travel by public transport, you could wear your cushion.
All these characteristics make this type of cushion provide multiple benefits.
Car lumbar cushion: the benefits for your back
Indeed, the use of these cushions can bring you several benefits, especially for your health in general.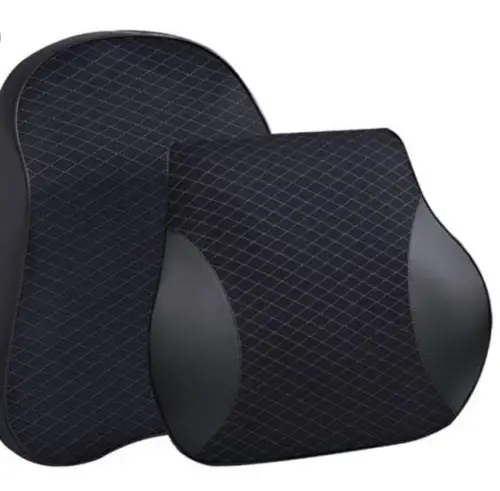 Relieve lower back pain when driving
The special car cushions significantly reduce the pressure on the spine and intervertebral discs. As a result, you will feel less lower back pain.
Accentuates lumbar lordosis (prevents the trunk from sagging)
Since this orthopedic car cushion supports the natural curve of the lumbar spine, it allows you to get into a position to drive more comfortably.
Reduce fatigue, stress and muscle tension in the back
Thanks to the additional support it can offer to the lumbar region, the device relieves the muscles.
Improve blood circulation
Since the use of a car lumbar cushion reduces the pressure on the blood vessels, it thus helps to improve the circulation of blood through the lumbar muscles, but also at the level of the lower part of the body. However, this theory is not supported by scientific studies.
In addition, car lumbar pillows are also beneficial for relieve various pathologies. And this, thanks to its action of additional support for the spine, reduction of the pressures exerted on the structures in question and improvement of the blood circulation. The use of such a cushion is moreover indicated for certain back problems as :
These cushions are a great help in the gait preventive, healing, Posttraumatic and even in post operative.
Are there any disadvantages?
While car lumbar pillows can offer a number of comfort and health benefits, there are also a few downsides to consider:
Discomfort : The cushion can sometimes add extra pressure to certain parts of the back or waist, which can cause pain or discomfort.
Size and fit : Some car lumbar cushions do not fit all types of seats perfectly, which can make them difficult to adjust and secure. If the cushion does not fit properly, it may move while driving, which can also cause discomfort.
Sustainability : Some car lumbar pillows can lose their shape and support over time, which can reduce their effectiveness in relieving back pain.
Cost : Some car lumbar cushions can be quite expensive, especially if they are made from higher quality materials.
Cover difficult to clean : Some car lumbar pillows have a cover that can be difficult to clean, which can be a problem if you spend a lot of time in your car.
Buying a car lumbar cushion: what are the different types and models available? How to choose ?
There are different types and designs of car lumbar pillows, which vary in shape, material, size, and functionality. Here are some examples.
Foam Car Lumbar Cushions
They are among the most common models. They are usually designed with an anatomical shape to support the natural curve of the lumbar spine and often have a breathable fabric covering.
We recommend this one for maximum comfort. Try it and you will enjoy results the first time.
Car lumbar support with foam cover
Dimensions : 36 x 27 x 5 cm
This cushion will bring you long-lasting comfort in the car and allow you to better support prolonged sitting. It is also suitable for use in the office or at home. Practical, the elastic band keeps the cushion on the seat. Hand washable cover
Sitting puts more pressure on the back than any other position, including standing. To limit this pressure, the back must keep the natural hollow of the column located at the level of the vertebrae lumbar
Inflatable car lumbar cushions
These are cushions that can be inflated with air to adjust their level of support. They can be particularly useful for people with specific support needs.
This adjustable airbag is very popular with car regulars.
Inflatable lumbar cushion
Multi-purpose, lumbar cushion, leg cushion, pillow, with it, you can relax better in your free time at work, it can be reliable and padded, both beautiful and generous.
Car Gel Lumbar Cushions
They are designed to conform to your body shape and provide comfortable support. They can be especially useful for people who spend long periods of time in a seated position.
If you spend long hours in the car or behind the wheel, we offer you this model of car gel lumbar cushion.
Car Gel Lumbar Support Cushion
It relieves a tightness in the lower back and mid back caused by sitting or driving for a long time and supports the curve of the back to achieve perfect spinal alignment and promote healthy posture.
Keep air circulation, the heat-dissipating gel layer prevents sweat and moisture from filling it up, keeping you cool and comfortable all day.
Best fit for lumbar support, never flat. Can be compressed to shape your back shape and curve and provide comfort and relieve back numbness.
Memory foam lumbar cushions
Memory foam lumbar pillows are made from memory foam that molds to your body shape to provide personalized support. They can be particularly useful for people who have specific support needs.
According to our expertise and based on user feedback, we recommend this memory foam lumbar cushion. You will not regret it.
Memory foam back cushion ideal for car seat
Scientific design based on human engineering: The ergonomically shaped cushion relieves pain when sitting for long periods of time. Ideal for use in the office, in the car or in a truck or just for relaxing at home.
【Breathable Memory Foam】With the best quality memory foam, the outer layer and the inner bird's eye fabric cover, this support pillow can maintain air circulation and keep you always cool and comfortable. The breathable material of the back allows the back cushion to be suitable for all seasons.
Lumbar cushions with vibrations
Those with vibrations can offer a gentle massage to relieve lower back pain and muscle tension in addition to promoting blood flow. They are usually equipped with a small motor to create vibrations.
If you are ever looking for it, we offer you this product.
Massaging and heated lumbar cushion
【3D Design, Professional Massage】This shiatsu massager has 4 large massage heads and 2 octagonal small heads, kneading massage like real hands, which can deeply stimulate the neck/back/waist/legs and other muscles, relieve mental stress caused by muscle tension and pain.
Heated lumbar cushions
Heated lumbar pillows can help relieve lower back pain by increasing blood circulation to the lumbar region. They can be especially helpful for people who have chronic lower back pain.
For this type, we recommend this product. It is much appreciated by users.
Multifunctional lumbar cushions
They can offer a combination of several features such as lumbar support, vibration, heat, and massage.
This multifunctional cushion brings together all the qualities and interesting properties of a car lumbar cushion. We highly recommend it to get the most benefits for your back.
Multi-function car lumbar support cushion
Satisfaction Guaranteed - We provide the best customer experience possible. If you are not satisfied with our lumbar support pillow, just contact us, we will refund or replace your order. You will get 100% money back no questions asked. Because customer satisfaction is our priority.
Choosing a car lumbar pillow that suits your body type and individual needs is important to get the most out of it.
How to choose a car lumbar cushion: the guide to making the right choice?
Choosing the right lumbar pillow for your car can make all the difference in comfort and health. Here's a guide to help you choose the perfect lumbar pillow for your car.
Assess your needs
Before choosing a lumbar cushion, it is important to assess your needs. If you suffer from lower back pain, you might want to opt for a thicker and firmer cushion. If you are simply looking to improve your driving comfort, a softer cushion may be sufficient.
Choose the appropriate shape
There are several forms of car lumbar pillows. Some are designed to conform to the shape of your back, while others are flatter. You can also choose a lumbar pillow with an integrated headrest for additional support.
Check the dimensions
Before purchasing a lumbar pillow, check the dimensions of your car seat to make sure the pillow will fit properly. A lumbar pillow that is too big or too small can cause more pain than comfort.
Consider the materials
Each material has its own advantages and disadvantages, so choose the one that best suits your preferences and budget.
Opt for an easy-to-clean cushion
If you regularly use your car, it is important to choose an easy-to-clean lumbar cushion. The lumbar cushions with a removable cover are often easier to wash than those that are built into the cushion.
Opinions of our patients and users on car lumbar cushions
Most reviews from our patients and other users of these lumbar pillows are positive. In summary, they found that these cushions are:
Very comfortable : by the way, many of them reported a significant improvement in driving comfort with the use of a lumbar cushion. This is especially the case for people who suffer from lower back pain and posture problems.
Efficient : because the lower back pain has decreased.
Some users have even mentioned that using a car lumbar pillow has changed their life : they can now drive for long hours without pain. Thus, there is no longer any need to take breaks to relieve pain: extra productivity guarantee.
This is the best-selling car lumbar cushion model.
car chair lumbar support cushion
Unique breathable and hypoallergenic 3D mesh cover and premium suede: With a removable and machine washable mesh cover, this support cushion can keep looking good and always keep you cool and comfortable, dry for a better experience , so that sweat and humidity do not fill it, suitable for all seasons. The suede back material allows the back cushion to fit all year round.
On the other hand, like any product, there are dissatisfied. In summary, the reasons for their dissatisfaction relate to:
the difficulties of fit and size, which accentuate the discomfort: they had difficulty finding a lumbar cushion that suited the seat of their car;
the quality of the material: the cushion lost its shape and support after a few uses;
the price: some Internet users find that the price of certain cushions is relatively too expensive.
In short, the lumbar cushion is an interesting device, especially for those who use their car very often. It can provide both comfort and optimal support for the lower back. What should be remembered is that it is also very interesting in terms of preventing back pain in addition to other means such as physical activity and the fight against contributing factors.
The alternatives
Use towels
You can roll up a towel and place it between the car seat and your back to create lumbar support. Remember to find the size and position that will prevent you from hurting yourself again.
Use a bottle of water
You can also try putting a filled water bottle behind your back for personalized support. You can stuff it with fabric to make it more comfortable.
Use travel pillows
They also bring a minimum of comfort.
Stopping for a break regularly
Even with a car lumbar pillow, experts always advise to take a break, get out of the car and stretch your legs with a few steps. In addition, remember that any position is harmful to the back if it is maintained for a long enough period.
To conclude, it should be kept in mind that car lumbar cushions are effective solutions for discomfort and back pain, but they cannot replace medical products in the treatment of back problems. In addition, to guarantee their effectiveness, it is necessary to know how to use them: place them in the right place (just below the kidney area), fix them well on the seats and adjust them regularly. It would also be interesting to associate them with other supports.
Resources
References
thank you for your comeback
How can we improve the article?