Even if it seems unusual, there are people who are used to sleep without a pillow and they like it. But is it good for your health? Is it comfortable? In this article, we'll answer those questions by discussing the pros and cons of this rather peculiar sleeping habit.
The pros and cons of sleeping without a pillow
Sleeping without a pillow: the advantages
We have always been advised to sleep on a pillow in order to keep the natural alignment of the spine during different sleep positions. However, in certain specific cases, doing without this accessory can be beneficial for health. Here are the benefits it provides.
Facilitates position changes
You will notice that people who clog a lot during their sleep are the ones who like to sleep without a pillow the most. Indeed, this accessory can make it difficult to change positions repetitively during the night, but not only. It can also interfere in certain positions such as on the stomach.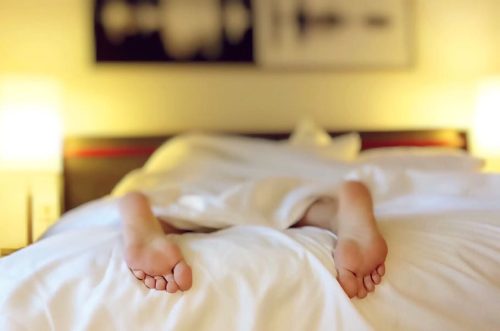 Offers better comfort for sleeping on your stomach
When you sleep on your stomach, the volume of the pillow can raise the neck which will corrupt its alignment with the spine. This creates tension in the neck which causes pain. At the same time, it can also hamper the circulation of blood to the head which can lead to headaches.
For stomach sleepers, sleeping without a pillow is therefore the best way to have better comfort during bedtime..
Limits skin problems
For people who suffer from infections or allergy on the skin, sleeping without a pillow can also be beneficial.. Indeed, some types of pillow lack ventilation which may increase inflammation in the infected areas. In addition, it may happen that dust mites lodge inside the pillow or that it is made with allergenic materials.
Hypoallergenic and anti-mite pillow
【Safety and Certified by Oeko-tex】The fillings and pillowcases of our anti-mite cushion are certified by Oeko-tex, you can enjoy your nights with pillows set of 2 50×70 without worries!
【Soft yet Firm】High quality filling, each pillow is filled with 1050g 3D polyester fiber, this makes Bedstory inflatable pillows stay inflated and keep their shape well, polyester fiber makes Bedstory pillows soft yet firm.
【Anti-mite and Hypoallergenic】The anti-mite pillowcases 2 pack 50×70 are made of high density polyester, anti-mite, hypoallergenic, and treated by special sanding technique to offer you a soft and very feeling. comfortable.
Fight against back and neck pain
In people who tend to suffer from back pain or neck pain, the only solution to sleep peacefully is sometimes to do without a pillow. Of course, before getting there, they have already tested various pillows before, without finding any improvement in their condition.
The inconvenients
As we have seen, sleeping without a pillow can be comfortable in certain situations. But unfortunately, you should know that this method is not made for everyone.
This is for example the case of people who suffer from acid reflux, heartburn, snoring and syndrome ofSleep Apnea.
It is also not recommended to sleep without a pillow if you sleep on your side. In this position, it is essential touse a pillow to fill the space between the neck and the shoulder. Otherwise, don't be surprised to wake up with excruciating pain in your neck.
The same is true for people who already suffer from chronic neck pain. In this case, the pillow helps to reduce the pressure in the area concerned and therefore helps to relieve pain during the night. However, to obtain this result, you must opt ​​for a good quality pillow, with optimal support and excellent density. Why not a memory foam pillow ou natural down pillow or even a polyester pillow. All seem adapted to this circumstance.
Memory foam pillow
✔【Neck Support Pillow】- TheComfortZone Memory Foam Pill Organizer is designed as a…
✔【Zero Pressure Sleep】- Our neck pillow for neck pain can release the pressure of…
✔【Breathable Back Pillow for Bed】– Unlike other sleeping pillows, this neck pillow…
Finally, another disadvantage of sleeping without a pillow is that it can also cause severe and recurring headaches if you lie on your back. Indeed, if the mattress fails to provide good support for the whole body, it is possible that the head sinks in and at the same time stretches the neck backwards. Not only will this prevent you from sleeping peacefully, but it will also disrupt blood circulation causing headaches.
How to sleep better without a pillow? Our advices
If you like to sleep without a pillow, there are a few things to consider to ensure your comfort during sleep.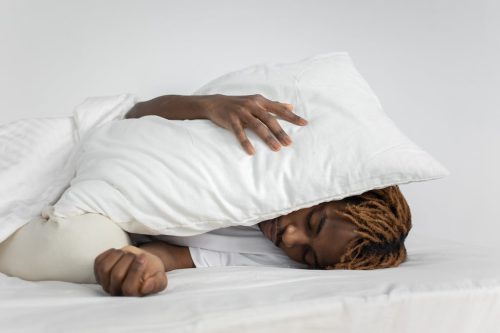 Have a good mattress
With a worn or poor quality mattress, it is not uncommon for us to be confronted with a lack of support. This will cause the support zones of the body to sink into the mattress, which subsequently generates various muscular tensions as well as a deformation of the alignment of the spine.
To avoid this kind of problem, it is then essential to have a good mattress. The latter must correspond to your size and your morphology in order to properly support the body and to effectively distribute the weight of it over its entire surface. This is what will reduce the pressure zones.
Promo
Perfect mattress for optimal comfort
AN EXCELLENT VALUE FOR MONEY: The PerfectSleep Mattress is designed with High…
30 NIGHT TRIAL: Enjoy a 30-night trial on all Naturalex mattresses. This inexpensive mattress will suit…
VACUUM PACKED: The PerfectSleep is delivered rolled up and compressed, so it can be transported and installed…
Put a small pillow on the lower abdomen
Do you sleep without a pillow and prefer to lie on your back? We advise you to place a small flat cushion at the level of the lower abdomen. This will prevent your hollowing out and you will see, you will feel more comfortable.
What must be remembered is that sleeping without a pillow can be both good and bad for your health. In fact, it all depends on your situation and your preference. But if you are a fan of this mode of sleeping, we suggest that you at least bring a suitable mattress to enjoy maximum comfort.
thank you for your comeback
How can we improve the article?